Biden Disputes Trump's Claim that Hack is Under Control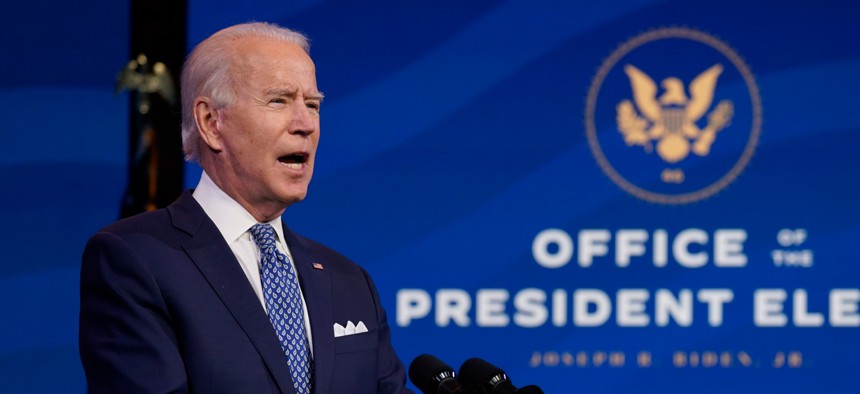 The president-elect called for an official attribution to Russia but said a damage assessment is necessary before discussing the appropriate response.
President-elect Joe Biden disputed President Donald Trump's assertion that the widespread hack that has compromised numerous public and private-sector entities is under control.
"I see no evidence that it's under control, I see none, heard of none," Biden said. "The Defense Department won't even brief us, on many things. So I know of nothing that suggests it's under control. It is a grave risk and it continues."
The president-elect took questions after prepared remarks he delivered Tuesday and was responding to questions from a reporter who referenced Trump's tweets over the weekend that claimed the media was inflating the seriousness of the breach.
Biden also called on the president to officially attribute the breach to Russia. Such an attribution—as well as a thorough assessment of any damage from the hacking campaign—would be necessary before deciding on a response, which he again committed to making. 
"Initial indications, including from Secretary Pompeo and Attorney General Barr suggest that Russia is responsible for this breach," he said. "It certainly fits Russia's long history of reckless and disruptive cyber activities, but the Trump administration needs to make an official attribution."
Pressed by the reporter on whether the perpetrators had engaged in an act of war, Biden gave a measured response based on international law.
"The question of the damage done remains to be determined, we have to look at very closely the nature of the breaches, how extensive they are, and what damage has been done," he said. "Let us determine what the extent of the damage is, and I promise you there will be a response."
Biden thanked Congressional Republicans, specifically, who have raised the gravity of the issue, noting this should give Americans confidence that there will be a bipartisan approach. He said ultimately it could take billions of dollars to secure cyberspace, and repeated that it will be a priority for his administration.
"In the meantime," he said, "the President's team needs to cooperate fully to share information as it becomes available on both the impact and our response to ensure a smooth transition and to protect the American people as administrations change." 
During a discussion hosted by Auburn University's McCrary Institute Tuesday, former advisers to the last three administrations all agreed that a damage assessment needs to come first. 
"We need to insist on rules governing discrimination and proportionality in the use of cyber tools," Tom Bossert, former homeland security adviser to President Trump and deputy homeland security adviser to President George W. Bush, said, referencing specific aspects of the law of war, a set of norms generally accepted among nations.
Chris Inglis, former deputy director of the National Security Agency, noted that while it is an accepted norm that nations should be able to pursue their national security goals like gathering intelligence to protect their interests, they are expected to do so with discrimination and due care to minimize collateral damage. That is not the case in this campaign, he said, noting the breach undermines confidence in U.S. systems.   
"It is brazen, it is impactful and it is indiscriminate," he said, "and in that regard, I would say that while the use of computer network attack or physical attack is not completely appropriate [for a response] in this case, there's a consequence that is appropriate for whoever did this."
Michael Daniel, former cybersecurity adviser to President Barack Obama, added that the U.S. should be judicious in determining a response toward the goal of revisiting international norms for the cyber realm, as Biden has also committed to doing.
"We've got to be mindful of the fact that the rest of the world does not necessarily see us as the good guys," he said. "Anything that we have done that would be perceived as similar would be used against us, and undermine our ability to get that international coalition that we would want. That's why I think it's very important for us to focus on the pieces of this that are different, and disproportionate, and out of bounds of the ways that we ourselves would conduct intelligence operations." 
Melissa Hathaway, former cybersecurity adviser to presidents Obama and Bush, cautioned it should take a while to appropriately determine the right response.
"It would require working with the current administration and the future administration so that there's a coordinated response of how we're going to handle it because this is going to be a very long response process," she said. "It's not a, 'let's just have a meeting in the Oval office or a meeting in the [situation] room,' and we're going to decide and it's going to be, you know, whatever, an oil sanction. It's going to have to be long and measured."
Although one member of Congress has likened the breach to the attack on Pearl Harbor, Bossert said it's whether the perpetrators will drop leaflets or bombs, or have planted those somewhere to be detonated later, that matters. For now, we know "the planes are circling the harbor," he said, and they could just take some pictures and go back home.