Pentagon Wants Contractor Feedback on Rule Change that Bans Certain Chinese Firms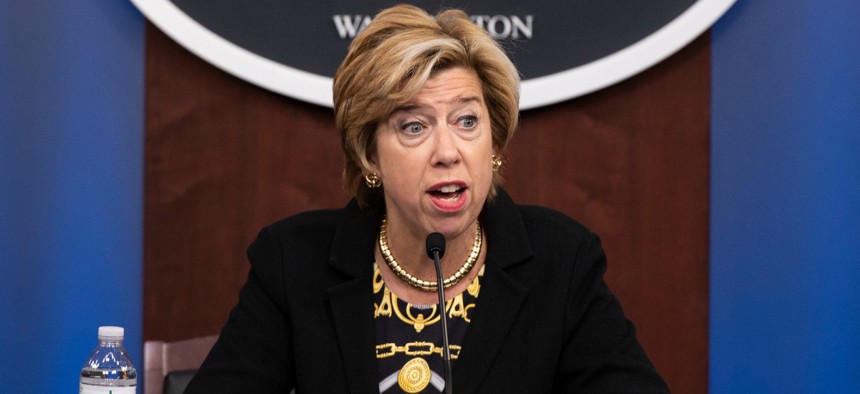 A provision of the 2019 National Defense Authorization Act banning agencies from contracting with companies doing business with Chinese firms like Huawei and ZTE now takes effect.
Defense Department Undersecretary for Acquisitions and Sustainment Ellen Lord on Thursday urged the contracting community and industry organizations to collect meticulous data related to how a new interim supply chain rule is changing the way contractors do business. 
Lord spoke at the Professional Service Council's annual Defense Services Conference the same day a provision of Section 889 of the 2019 National Defense Authorization Act took effect. The provision bars agencies from contracting with any company doing business with five Chinese firms, including Huawei and ZTE. 
"DOD fully supports the intent of Section 889, but recognizes the implementation challenges facing industry partners," Lord said. 
The provision currently exists as an interim rule in the Federal Register amending the Federal Acquisition Regulation. It affects any solicitations issued on or after August 13 as well as any contracts awarded on or after August 13, regardless of when the solicitation was issued.
Implementation comes after months of the coronavirus pandemic disrupted the government's ability to complete full public notice and comment before the August 13 implementation deadline, according to the entry in the Federal Register. 
But the Defense Department is actively seeking feedback on the interim rule as it takes effect, Lord said. She called on industry associations to take detailed notes on how the rule changes operations in the defense industrial base—she wants to know what's working and what isn't. 
"I know we're all aligned in that we do not want adversaries in our supply chain. We don't want further theft of intellectual property. We don't want these nefarious actions going on," Lord said. "But how do we get the language into the contracts, how do we practice the behaviors of ensuring we understand what we have in our supply chains for telecommunications equipment? What we need to do is continue to hear from you."
The best way to provide this feedback is by aggregating as much information as possible under major themes and then organizing the corresponding data to show specific proofs to support those themes, Lord said. 
Lord said Defense Pricing and Contracting is working with Congress to draft revisions to Section 889 to help facilitate implementation as well as ensure there aren't unintended consequences. Lord added feedback from the industry groups isn't just for DOD purposes—it's something the department can take to Congress to support the revision process. 
According to the Federal Register entry, the provision of Section 889 taking effect Thursday, known as section 889(a)(1)(b), applies to contractors at the prime level. It does not flow down to subcontractors.
The National Counterintelligence and Security Center conducted briefings across the government in the two weeks leading up to implementation of the provision. These classified briefings included federal procurement executives, chief information executives and chief information security officers, according to a Wednesday press release from NCSC. 
"These unprecedented briefings underscore NCSC's commitment to elevate supply chain security in the federal acquisition process, in keeping with the National Counterintelligence Strategy," William Evanina, director of NCSC, said in a statement. "In partnership with the Office of Director of National Intelligence's National Intelligence Council, we are providing threat information on foreign efforts to subvert the U.S. supply chain and empowering federal procurement and contracting officers who share in the responsibility for protecting the federal supply chain."
Jamil Jaffer, a cybersecurity expert at IronNet Cybersecurity and former senior staffter on the Senate Foreign Relations Committee and the House Intelligence Committee, told Nextgov the contracting community is not where it needs to be to implement this rule. 
"They don't have the confidence in their systems right now," Jaffer said. "There's been a lot of talk about staving off this deadline and I think that it looks like that's not going to happen. And as a result, I think that we will need some additional waivers going forward."
Jaffer said holding tight to the deadline shows that the government is serious about addressing the national security threats in supply chains. He cited a "steady drumbeat" of activity out of the administration in the past few weeks as evidence. 
In July, the Justice Department announced indictments related to an intellectual property theft incident. Two Chinese nationals face charges in connection with stealing trade secrets including coronavirus research. The indictments allege the two Li Xiaouyu, 34, and Dong Jiazhi, 33, also stole proprietary information from defense contractors related to military satellite programs, wireless networks and communication systems. 
Shortly after, the U.S. and China went tit-for-tat on closing consulates. President Donald Trump closed the Chinese consulate in Houston, and in response, China mandated the closure of the U.S. consulate in Chengdu. 
Jaffer also cited last week's State Department announcement that it would expand the Clean Network program and Trump's executive orders against TikTok and WeChat on August 7 as further evidence the administration is serious about stepping up action to curb national security threats posed by China. 
Problems for contractors aren't necessarily because there is widespread reliance on Huawei or ZTE, but more so that companies aren't confident in the clearance process, Jaffer added. Contractors are figuring out how to ensure they are meeting standards across the full depth of their supply chains. 
"This goes to cybersecurity and larger issues about how we ensure that large supply chains are strong and resilient against foreign government influence," he said.