Bill Proposes to Incentivize Cybersecurity Innovations With Cash Prizes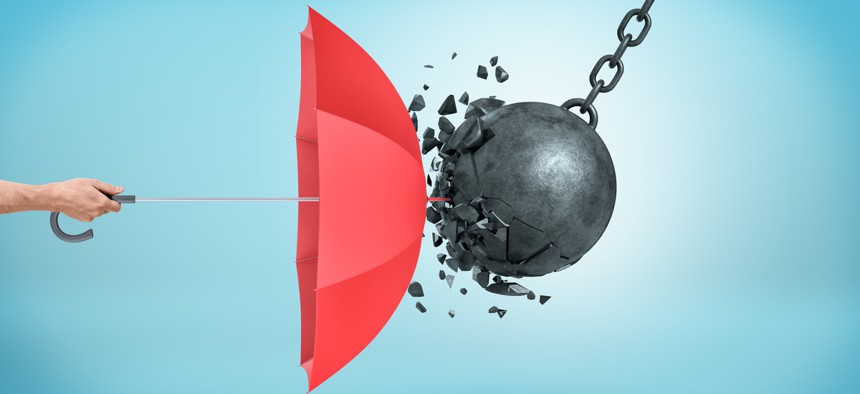 The legislation tries to breathe life into a "moonshot" idea first proposed by tech industry leaders. 
A bipartisan group of senators proposed a bill that would instruct the Commerce Secretary to establish competitions and award prizes for meeting grand challenges in cybersecurity. 
The Cyber Leap Act of 2020—introduced Wednesday by Senate Commerce Committee Chairman Roger Wicker, R-Miss., Sen. Cory Gardner, R-Colo., and Jacky Rosen, D-Nev.—would allow Commerce to crowdsource funding for the challenges from other federal agencies, state, local and tribal governments as well as private sector entities and nonprofits.  
The bill is based on a report that executives from firms such as Palo Alto Networks put together in 2018 outlining a grandiose plan to make the internet safe and secure in 10 years.
The 2018 report spawning the legislation was issued by the President's National Security Telecommunications Advisory Committee. A moonshot subcommittee—co-chaired by Mark McLaughlin, chairman of the board for Qualcomm and vice chairman of the board at Palo Alto Networks, and Peter Altabef, chairman and CEO of Unisys—hoped to inspire Congressional funding levels and a national effort similar to those that enabled the U.S. to put men on the moon.    
"Palo Alto Networks is proud to help lead the development of the Cybersecurity Moonshot initiative, and we look forward to working with Congress as it considers how to strengthen internet security," Ryan Gillis, the company's vice president of cybersecurity strategy and global policy, said reacting to the bill's introduction. "Thank you Chairman Wicker, Senator Rosen, and Senator Gardner for your leadership on this important issue."
The bill calls for the establishment of grand challenges around making it more costly to conduct cyberattacks; elevating digital literacy so that Americans make better security decisions there is a workforce capable of protecting system; advancing cybersecurity responses to emerging technology such as quantum computing; re-imagining digital identity so that security is more integrated into everyday activities; and improving federal agencies responses to cyber incidents. 
It also gives the Commerce Secretary freedom to come up with other ideas while collaborating with agencies such as the National Science Foundation and the Cybersecurity and Infrastructure Security Agency.
The bill doesn't include any details on the size of the prizes or how they would be awarded.
Nextgov first reported the bill would be coming from the RSA cybersecurity conference earlier this year. 
"Someone's gonna get a prize somehow," Bradford Willke, CISA's acting director of stakeholder engagement and cyber infrastructure resilience, said about the initiative then. 
Supporters of the moonshot initiative say the grand challenges are a way to democratize problem-solving for cybersecurity.