FBI Director Names China the Nation's Most 'Severe Counterintelligence Threat'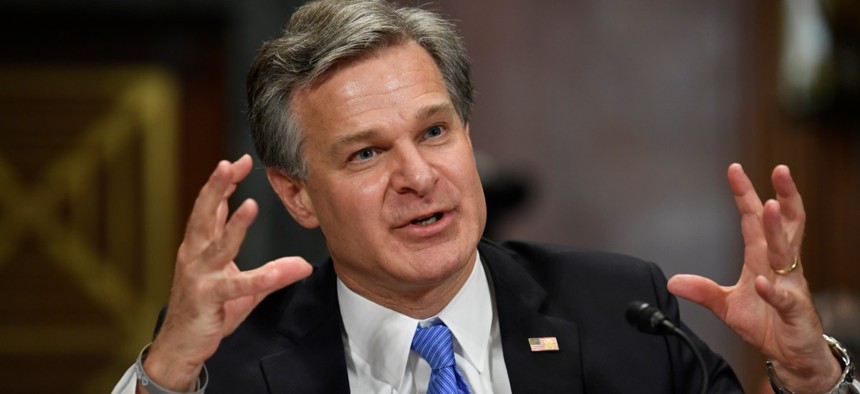 Russia also shows no signs of stopping its election interference efforts ahead of 2020, Christopher Wray told lawmakers.
FBI Director Christopher Wray on Tuesday warned Russia remains "absolutely intent" on meddling in next year's elections and named China as the greatest national security threat facing the country today.
Wray told lawmakers the Russian election interference efforts that helped galvanize Special Counsel Robert Mueller's investigation in 2017 are still operating at full force. While the Homeland Security Department is working to lock down the country's election infrastructure, the FBI is focused on combating the misinformation and influence campaigns the Russians are waging online.
Testifying before the Senate Judiciary Committee, Wray said the FBI is working with federal agencies and the private sector to raise awareness about Russian misinformation, including social media ads, and to combat the country's attempt to sway the electorate. Relatedly, he said the bureau is also working with the private sector to fight the spread of deepfakes, which he called a major concern for FBI leadership.
Though Wray said the bureau has "significant resources" devoted to combating Russian influence efforts, he suggested that the U.S. needs to step up its game to change the country's behavior. 
When asked by Chairman Lindsey Graham, R-S.C., whether the sanctions and investigations directed at Russia have impacted the country's operations, Wray said that "until they stop, they haven't been deterred enough."
The hearing quickly turned to China and the FBI's strategy for fighting the country's multifront campaign to improve its own economy at the expense of the U.S.
"There is no country that poses a more severe counterintelligence threat to this country right now than China," Wray told lawmakers. "That's saying a lot, and I don't say it lightly."-
The FBI is conducting more than 1,000 investigations into intellectual property theft and economic espionage nationwide, "almost all leading back to China," Wray said. Given the size and scope of the country's espionage tactics, which run the gamut from cyberattacks to corruption of company executives, the U.S. must use every tool in its arsenal to combat the threats, according to Wray.
"It's a threat that's deep and diverse and wide and vexing," he said. "Make no mistake, this is a high, high priority for all of us."
Top government officials have long struggled to counter Chinese economic espionage and intellectual property theft, which over the years have enabled the country to prop up a tech sector that rivals that of the U.S. Economic theft decreased after a 2015 agreement between the U.S. and China, but the lull was short-lived.
Over the past year, the Trump administration has dabbled with less diplomatic approaches to curbing China's espionage practices, including starting a trade war and blacklisting Chinese companies like Huawei from the U.S. market.