Election Day Security Chat Room Will Be Open to More Than 3,000 County-Level Officials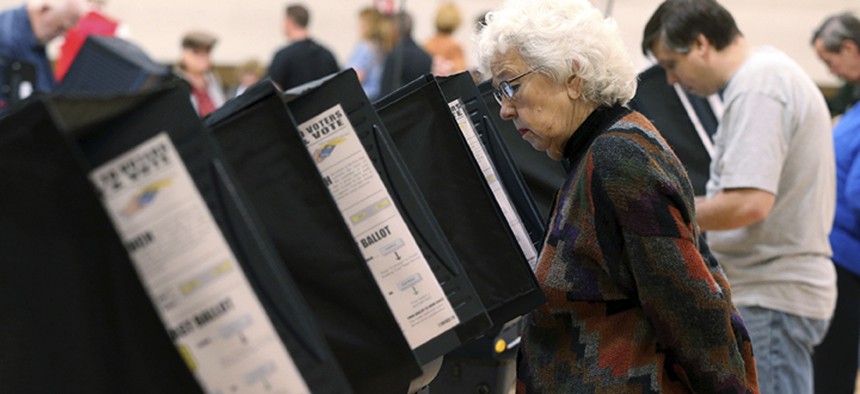 The chat room will operate on an unclassified level and invite participation from across U.S. counties, a DHS official said.
A virtual chat room the Homeland Security Department will operate on election day will be available to election officials down to the county level and will include unclassified information, the department's top cybersecurity official Chris Krebs said Friday.
When it comes to classified threat information, Homeland Security officials will shift to secure phone calls and video conferences with state and local officials who have been granted security clearances or authorized for temporary clearances, Krebs told reporters following an election security exercise.
Krebs and other Homeland Security officials previously described the virtual chat room, called the National Situational Awareness Room, but have not provided details about the scale or content.  
The U.S. is comprised of more than 3,000 counties or county equivalents, such as Louisiana's parishes.
Many local election officials will likely jump in and out of the chat room rather than monitoring it all day, Krebs suggested.
"The idea is the broader DHS mantra of 'see something, say something,'" Krebs said. "Any indicator, no matter how small … may be part of a broader operation. So, we're really trying to encourage folks: If you see something, share it. It might be happening in another state or another jurisdiction."
Homeland Security has been testing its ability to communicate classified information with cleared state and local officials during recent months, Krebs said, and is confident it can set up a secure conversation quickly if necessary.
If the department can't work through officials who already have clearances or grant temporary clearances, Krebs said, he's confident the department can rapidly declassify the information it needs to share or use other means to communicate it.
"We're going to get information into the hands of folks that need it and deal with the consequences later," he said.
The department has seen foreign efforts to influence the 2018 midterm elections through social media manipulation, Krebs said, but not on the scale of Russia's effort to influence the 2016 presidential contest.  
He cited social media manipulation efforts from Russia, China and Iran.
Krebs' comments came just hours before the Justice Department unsealed a criminal complaint against Elena Alekseevna Khusyaynova, a Russian citizen and chief accountant of "Project Lakhta," which Justice officials said conducted "information warfare operations" aimed at undermining U.S. candidates and the U.S. political system writ large.
Project Lakhta-linked social media accounts took ideologically varied stances on U.S. political debates including over immigration, gun control, the Confederate flag, race relations, gay rights and professional football players kneeling during the national anthem, according to a Justice press release.
A Homeland Security spokesman said in a statement that the Justice complaint "demonstrates that our elections continue to be a target for our adversaries" and that "DHS stands ready to defend our elections."
Homeland Security plans to continue monitoring for both foreign influence operations and efforts to hack election systems after Election Day, Krebs said. That will include looking for anomalies during the election itself as well as hacking or information operations focused on election audits and certification, he said.
"Nov. 7 is just part of the broader plan," Krebs said, referring to the day after Election Day. "Our activation posture will extend several weeks beyond the election. It's not like Nov. 7 comes and we stand everything down."