Senators press DNI on Russian interference, cyber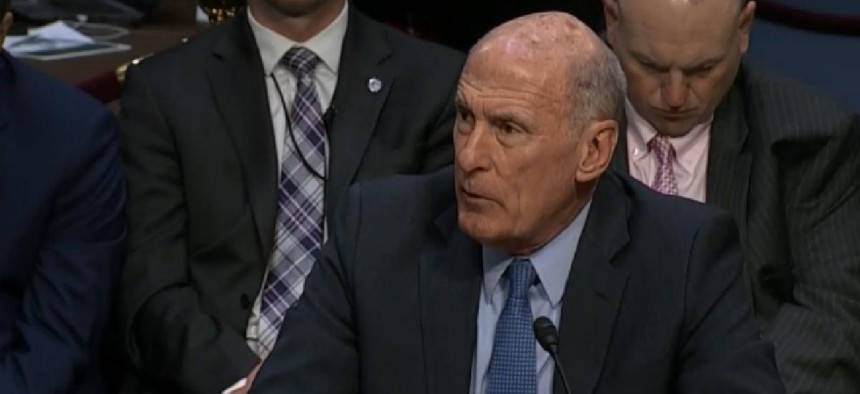 Lawmakers on the Senate Armed Services Committee continue to press the administration for a cyber warfare doctrine and action on Russian election interference.
Director of National Intelligence Daniel Coats takes questions from the Senate Armed Services Committee.
The Director of National Intelligence was grilled by senators from both sides of the aisle about the apparent reluctance on the part of the Trump administration to respond forcefully to efforts by Russia to interfere in U.S. elections.
At a March 6 hearing of the Senate Armed Services Committee, DNI Daniel Coats, who testified alongside Defense Intelligence Agency Director Robert Ashley, found himself frequently on defense, with senators expressing both impatience with the administration's lack of a cyber warfare doctrine and the lack of ownership of the election threat and information warfare issue inside government.
"The discussions, I think, are ongoing. It is just the plan of action and the direction to take action that seem to be missing," said Ranking Member Sen. Jack Reed (D-R.I.)
New Mexico Democrat Sen. Martin Heinrich complained that he was weary of hearing the election interference problem requiring a "whole of government approach," a phrase that Coats leaned on in his response to member questions.
"I hear that the phrase 'whole of government approach' has become a catchall for 'it's someone else's job,'" Heinrich said. "Saying whole of government approach is not a substitute for action and not a substitute for real cyber doctrine."
In response to questioning from Sen. Mike Rounds (R-S.D.), who chairs the defense panel's cybersecurity subcommittee, Coats said that progress on cyber policy has been slow.
"I don't think the progress has been made quick enough to put us in a position where we have a firm policy and understanding of not only ourselves but what our adversaries know relative to how we're going to deal with this," Coats said.
In his written testimony, Coats expressed "concerns about U.S. retaliation and still developing adversary capabilities" as well as the "increasingly damaging effects of cyber operations and the apparent acceptance by adversaries of collateral damage," naming Russia, China, Iran and North Korea as the greatest cyber threats.
Coats agreed with Sen. Lindsey Graham (R-S.C.) that Russia was likely to repeat its 2016 efforts to disrupt U.S. elections with information warfare and social media campaigns during the 2018 election cycle, but he said that the intelligence community was not sure yet what form it would take.
"We have not seen evidence of a robust effort yet on the part of Russia, but we know their malign activities continue," Coats said. "It's highly likely that they will be doing something, we just don't know how much and where and when."