Trump Budget Gouges Non-Defense R&D by 19 Percent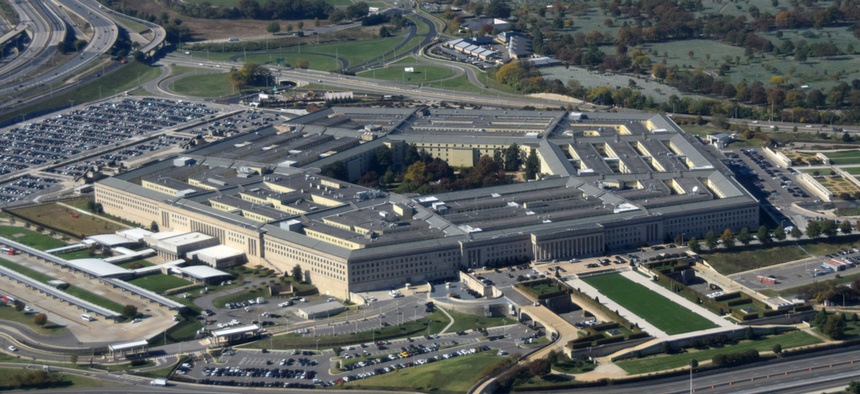 Meanwhile, Pentagon researchers will get an extra $13.5 billion to play with.
The Trump administration plans to cut funding for federal researchers by about 1 percent next year, but the proposed budget would force virtually every agency besides the Pentagon to drastically tighten its research purse strings.
The president's budget proposal for fiscal 2019 allocates roughly $118.1 billion for federal research and development, down slightly from the $119 billion authorized in the most recent continuing resolution for 2018. But, while the Pentagon gets an extra $13.5 billion in its coffers, funding for R&D at civilian agencies dropped 19.2 percent.
For example, the Defense Advanced Research Projects Agency—which develops high-risk, high-reward military technology— would receive $3.4 billion, more than the R&D budgets for the Commerce, Transportation and Homeland Security departments combined.
Under the new proposal, the Defense Department would receive a total of $57.2 billion in R&D funding, up more than 31 percent from 2018 levels. The proposal grants the Pentagon an additional $38.7 billion for "operational system development," investments in R&D support equipment and facilities, which is categorized under a different budget section.
President Trump cited "protecting the homeland against physical and cyber attacks" as the first priority for federal R&D, and pointed to a handful of national security-related projects at the Defense Department and other agencies aimed at achieving that goal.
Trump also highlighted improving disaster preparedness and response, harnessing artificial intelligence, expanding space exploration and combating drug abuse as R&D priorities.
But, while Defense innovation efforts are getting a sizable surge in resources, the administration is slashing R&D budgets at nearly every other agency.
The proposal would grant modest increases in funding to NASA, the Veterans Affairs Department and the Smithsonian Institution, but cut non-defense R&D spending by $14.5 billion, nearly one-fifth of the current 2018 budget.
The Health and Human Services Department, which gets the second most federal R&D dollars behind the Pentagon, would lose $9 billion in funding under the new proposal, more than a quarter of its overall budget. The Energy Department R&D budget would drop $2.3 billion—roughly 15 percent—next fiscal year, and the National Science Foundation would lose $1.9 billion, almost one-third of its R&D funding.
Total Commerce Department R&D funding came in at $1.3 billion, down 26 percent from 2018. The National Institute of Standards and Technology, which creates cybersecurity standards for the government and private sector, received an 18 percent budget cut.
The new proposal deals the biggest blow to the Environmental Protection Agency, cutting R&D funds nearly in half, from $496 million to $269 million.
The administration further revealed its priorities through budget changes within specific agency subcomponents.
Within DHS, the R&D budget for the Transportation Security Administration more than tripled. The budget also shifted about $41 million in cybersecurity R&D money from the department's science and technology division to its cyber operations wing. That's a major blow to the science and tech division, which has lost significant funding since Trump took office.
While the proposal also siphons off a major chunk of the Energy Department's budget, groups researching renewable energy were dealt an especially sizable cut. The department's Advanced Research Projects Agency, which funds federal and private innovation in energy technology, would be completely defunded under the new proposal.
The 2019 budget would also chop 30 percent of R&D dollars to the Census Bureau, which has fallen significantly behind on preparations for the 2020 decennial count.