White House efforts to get data equity-ready will also support AI, official says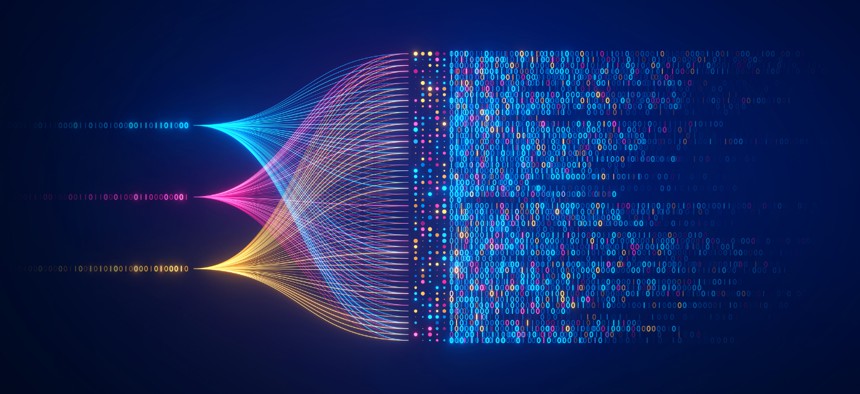 Executive agencies are prioritizing new best practices to harmonize AI systems and public data to both mitigate bias and support equity.
The Biden administration is looking to instill a strong culture of data-driven policy making across federal agencies in a dual bid to continue government technology modernization and improve visibility into underrepresented communities across the U.S.
A key part of this ongoing effort is protecting sensitive American data, according to U.S. Chief Data Scientist Dominique Duval-Diop. Speaking during a Friday panel hosted by the Atlantic Council, Duval-Diop elaborated on the White House Office of Science and Technology Policy's role in the broader federal agenda to innovate and modernize while mitigating risks inherent in emerging technologies.
"What we're doing is helping government agencies collect their data in such a way where they can basically…slice and dice it by different characteristics, and then use those characteristics to analyze the changes that need to be made in policies and programs in order to get to those equitable outcomes," she said on Friday. 
Building off of an executive order previously issued by President Joe Biden in February, the White House is working to support agencies' smarter usage of demographic data to promote fair outcomes for all populations. 
This operation was set in motion prior to advanced generative artificial intelligence softwares' explosion into popularity, a development that brings both potential and peril for the initiatives at Duval-Diop's office. 
"I really believe that getting data AI-ready poses some of the same challenges that we are confronting when we're talking about getting data ready to evaluate customer experience in our programs, or getting data ready to use for equity assessments, or preparing data to support evidence-building activities, or shared with the public," she said. 
Some of these challenges stem from the sheer volume of data available, both qualitative and quantitative. Analyzing and using personally identifiable information, which demands specific protection protocols, adds to the competing data governance management strategies OSTP has to navigate. 
"And all of these different types of data…pose different challenges related to data governance, and how you store them, how you access them and how you use them," Duval-Diop said. 
She added that improving data sharing practices between and within agencies is also a challenge ahead of adopting sophisticated AI systems to support government goals.
Understanding the minutia behind information collected in datasets, or metadata, is also a critical component for ensuring federal data can be responsibly used in AI systems, particularly in terms of mitigating bias. 
"We need to really know, you know, where the data is. Are they available and ready to use? Can they be interpreted by a model?" she posited. "Since all data carries some bias, getting data AI ready also requires taking a step back to assess the inequities that are embedded in data systems that generate data that we use to create these AI tools."
Duval-Diop noted that executive agencies are working to help address some of these challenges, namely around guidelines for data collection and handling. She confirmed that the Office of Management and Budget is developing fresh standards for collecting race and ethnicity data, as well as best practices for sexual identity data.
OMB will also be releasing draft policy guidance on the usage of AI systems across the U.S. government, slated to be available for public comment later this summer. 
"That's something that's going to really provide, you know, some guidance on policies that federal agencies can employ to ensure…that they develop, secure and use AI systems in a fair and ethical way," she said. 
Prioritizing diversity and inclusion within the AI system development, deployment and management workforce can also help encourage the ethical treatment of sensitive data, Duval-Diop said. 
The federal government has notoriously lacked sufficient technology updates that support incorporating emerging technologies into business operations. The Biden administration has attempted to close this gap through both increased funding toward modernization as well as improving data collection for historically marginalized populations to help government services operate more effectively for more people.