Senators Introduce Bill to Create Digital and AI Oversight Agency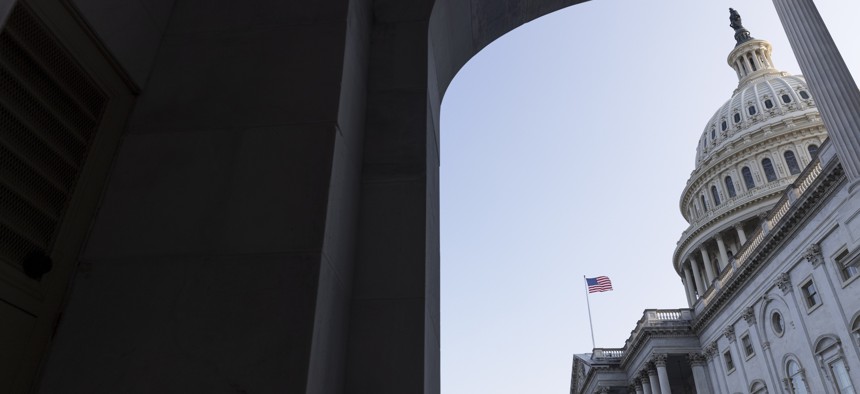 The legislative proposal would establish a so-called Federal Digital Platform Commission to regulate online services, including those that offer content "primarily generated by algorithmic processes."
Two Democratic senators reintroduced legislation on Thursday that would establish a new federal agency to oversee digital platforms and artificial intelligence providers, a move that comes as congressional lawmakers have spoken more forcefully in recent months about the need to regulate generative AI technologies and social media services. 
The bill—introduced by Sens. Michael Bennet, D-Colo., and Peter Welch, D-Vt.—would create a "Federal Digital Platform Commission" to have more direct oversight and authority over AI products and online platforms. 
According to a summary of the proposal, the legislation would create a five-member commission "empowered to hold hearings, pursue investigations, conduct research, assess fines and engage in public rulemaking to establish rules of the road for digital platforms to promote competition and protect consumers." The commission would be authorized to designate "systemically important digital platforms" for additional oversight and regulations, including "requirements for algorithmic accountability, audits and explainability."
The bill would also create a "code council" of technologists and industry experts to "offer specific technical standards, behavioral codes and other policies to the commission for consideration, like transparency standards for algorithmic processes." 
In a press release, the senators noted that the Department of Justice and the Federal Trade Commission are largely responsible for policing digital platforms, but added that "they lack the expert staff and resources necessary for robust oversight" and are "limited by existing statutes to react to case-specific challenges raised by digital platforms, when proactive, long-term rules for the sector are required."
"Big Tech has enormous influence on every aspect of our society, from the way we work and the media we consume to our mental health and wellbeing," Welch said in a statement. "For far too long, these companies have largely escaped regulatory scrutiny, but that can't continue. It's time to establish an independent agency to provide comprehensive oversight of social media companies."
Bennet introduced similar legislation in May 2022 to establish the Digital Platform Commission, although the latest version of the bill has been modified to more directly account for oversight of AI products by, in part, expanding the definition of a digital platform to include online services offering "content primarily generated by algorithmic processes."
"Technology is moving quicker than Congress could ever hope to keep up with," Bennet said in a statement. "We need an expert federal agency that can stand up for the American people and ensure AI tools and digital platforms operate in the public interest." 
The legislation was reintroduced after Sam Altman, the CEO of OpenAI—which created ChatGPT—testified before the Senate Judiciary Subcommittee on Privacy, Technology and the Law on Tuesday and called for Congress to regulate AI technologies, potentially with the creation of a "more nimble" government agency.
Bennet, in particular, has been vocal about his concerns with the lack of regulations around the use of generative AI tools and services, including ChatGPT. 
He previously introduced legislation last week, known as the Oversee Emerging Technology Act, that would require relevant federal agencies to appoint an official responsible for providing oversight and guidance on the use of AI and other emerging technologies. Bennet also introduced legislation last month to establish "a cabinet-level AI Task Force to identify existing policy and legal gaps in the federal government's AI policies."