Army, University of Maryland Enter Cooperative Artificial Intelligence Partnership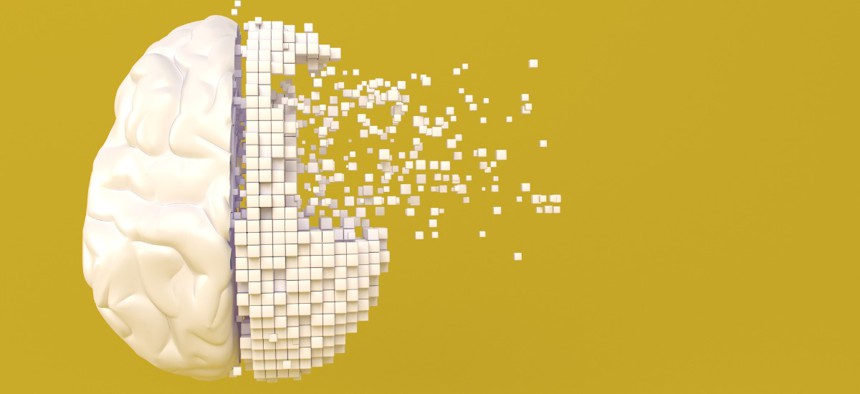 The joint effort will aim to advance multiple projects focused on AI, autonomy, and modeling and simulation.
U.S. military and academic researchers are set to explore emerging artificial intelligence applications and form a shared hub to advance how intelligent machines operate with one another and humans across multiple domains.
Those efforts and others to develop autonomous air- and ground-based technologies will unfold under a new five-year cooperative agreement between the Army Research Laboratory and University of Maryland.
"ARL is always interested in engaging with academic institutions to address unique Army challenges," Karl Kappra, director of ARL's Futures Division, told Nextgov in an email.
Interdisciplinary research teams of faculty, staff and students from UMD's College Park and Baltimore County campuses will work directly with 18 initial projects to start. Their pursuits will encompass three main research thrusts—AI, autonomy, and modeling and simulation—the university confirmed in a press release. The agreement, according to the university's post, could provide up to $68 million in funding.
UMD and ARL have worked together for decades, but Kappra said this fresh and formal partnership in some ways traces back to a white paper university researchers submitted in response to a recent broad agency announcement, "based on their knowledge of the need for the future Army to use autonomous systems." 
"ARL has numerous open competitive announcements available which identify Army research topics of interest and against which interested, eligible applicants can submit proposals for consideration," he noted.
This new partnership will offer the joint research teams access to the Army's Robotics Research Collaborative Campus, which houses an outdoor testing space for AI-centered research. 
Among the various projects, one team will implement new approaches to improve human-machine teaming and interactions. Those involved will also work to refine tools for AI-based networking, sensing and edge computing, which will play a weighty role in the internet of battlefield things. Kappra added that this initiative will additionally support ARL's AI Innovation Institute, or A2I2 Program. The lab, through that endeavor, intends to enable a suite of AI to ultimately provide intelligent systems to assist soldiers in uncertain, complex environments.
"In particular, the effort will support the program's goal to create a virtual research proving ground, connecting multiple test sites and organizations supporting AI for autonomy and perception," he said. 
Developing a standard, shared infrastructure to demonstrate "collaborative autonomy," a seamless network of military members and their AI-driven robotic partners, is among primary research aims.
Other institutions supporting the A2I2 program include Carnegie Mellon University, Texas A&M University, and University of California at Berkeley and Stanford. ARL is also guiding work at the newly established Howard University Center of Excellence in Artificial Intelligence and Machine Learning.
"The Army will continue to work to exploit AI and autonomous systems and the unique Army challenges associated with using these technologies in extreme environments," Kappra said. "Establishing these partnerships to gain access to and collaborate with leading academic institutions is critical to enable the Army to discover and exploit the latest advances in AI and autonomous system technology."