Report Recommends Doubling Federal Funding for AI Research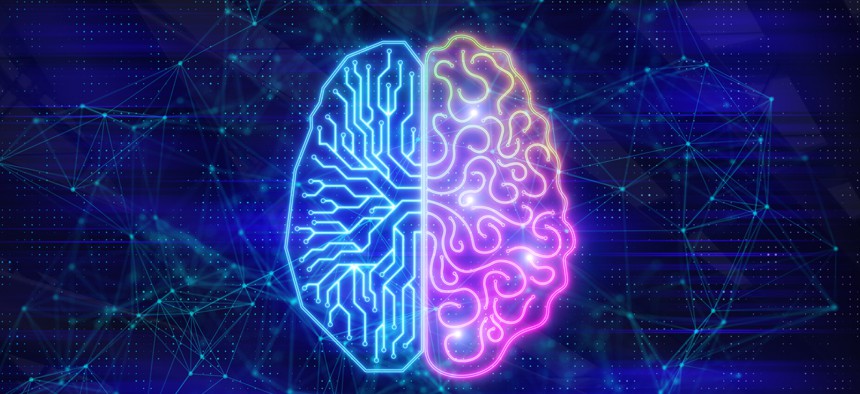 A new report from Reps. Will Hurd, R-Texas, and Robin Kelly, D-Ill., calls for increased funding and stronger federal leadership on artificial intelligence development.
Two tech-savvy lawmakers have partnered together with two prominent think tanks to produce a report detailing guidelines for a national artificial intelligence strategy.
Reps. Will Hurd, R-Texas, and Robin Kelly, D-Ill., joined with the Bipartisan Policy Center and the Center for New American Security to develop a series of white papers exploring topics in artificial intelligence.The first two reports covered national security and the workforce. The third, which was announced Thursday, called on the federal government to effectively double funding for AI research and development.  
The new report makes 14 recommendations, beginning with the call for increased research and development funding. The aim is to increase funding year over year to reach a goal of $25 billion per year by 2025. The report calls for this growth in investment to occur concurrently with a growth in overall R&D. 
"We are calling for a dramatic investment in R&D spending from the federal government," Hurd told Nextgov in an email. "Investing in R&D could mean waiting years before you can see tangible results, which can be difficult in an environment with so many funding priorities. But AI will be a critical enabling technology of the future."
The call for more funding mirrors prior recommendations made by the White House and the National Security Commission on Artificial Intelligence. Hurd cited the importance of past federal funding into transformative technologies like the Internet and GPS as precedent for this new investment effort. 
"Looking back, would anyone say that federal funding into enabling technologies like the Internet and GPS was a mistake?" Hurd said over email. "Like both those technologies, AI will deliver tremendous value to both our national security and our economy."
Federal funding into research and development generally has declined as a percentage of GDP, falling from 1.2% in 1976 to around 0.7% in 2018, according to the report. The statistic comes from the American Association for the Advancement of Science. 
Present in the report are concerns that China is surpassing the U.S. on the AI frontier. Estimates indicate the superpower may have jumped ahead of the U.S. in total R&D investments in 2019, according to the report. 
"As AI revolutionizes the world and economy, we can either be leaders or we can fall behind," Kelly said in the statement announcing the report. 
The announcement joins a list of recent statements and actions by lawmakers urging aggressive action to curtail China's position as a global technology leader, though Hurd said competition with China is only one of many reasons to increase AI investments. 
In July, a group of four Republican senators on the Foreign Relations committee unveiled a significant proposal that would establish a grand strategy for how the U.S. should compete with China. Measures to strengthen the U.S. and its allies' position on technology and AI specifically are paramount in the bill. 
The legislation is aimed at competing with China not just by pushing back, but by investing in innovation at home. Similar proposals are also expected from Democrats.
Some of the recommendations in the new report parallel provisions outlined in the Strengthening Trade, Regional Alliances, Technology, and Economic and Geopolitical Initiatives Concerning China, or STRATEGIC Act. Both emphasize the need to deepen partnerships with allies on AI and emerging technologies and call for the establishment of defined standards, though the legislation speaks to emerging technology beyond AI alone. 
"These efforts will be mutually reinforcing and I'm glad to have forward thinking peers in the Senate working on solutions to tough problems," Hurd said in an email.