Pentagon Shop Wants Machine Learning to Fix Complex RPA Processes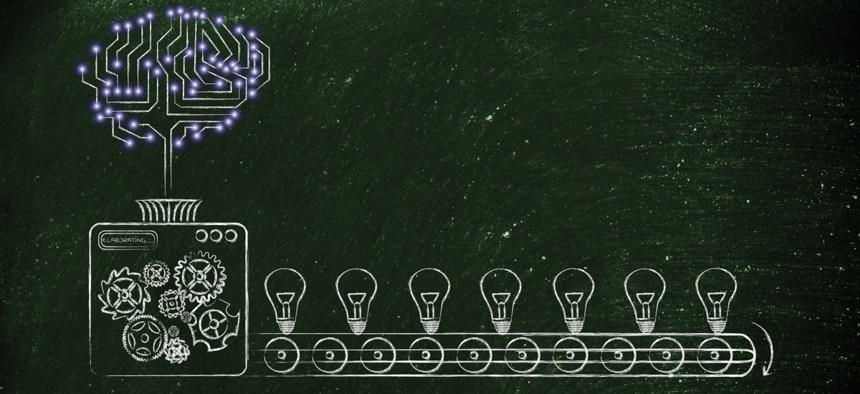 The office does not want new robotic process automation tools or cloud providers, according to a Defense Innovation Unit solicitation.
The Defense Department, like most federal agencies, has been trying to take advantage of robotic process automation to eliminate mundane, repetitive tasks. But there are some processes that, while tedious, are too complex for simple automation.
To bridge that gap, the Defense Innovation Unit—a program focused on speeding non-traditional contractors through the DOD acquisition system—is helping the Army Financial Management and Comptroller Office find machine learning tools "to automatically identify, predict, and recommend corrections to complex business processes," according to a solicitation posted on the program's website.
"Current automated workflows are strictly conditional, requiring well-defined business logic and processes prior to implementation," the call reads. "However, many more processes have less-defined business processes, which require manual intervention to fix."
Officials expect the tools will help correct discrepancies such as "resolving unmatched transactions; identifying patterns of fraud, waste and abuse; and other inaccuracies or redundancies in financial, logistics, travel and payroll accounting systems."
DIU will use its other transaction authority—an alternate procurement method outside the Federal Acquisition Regulation—for a phased acquisition approach. The contract will include three phases, from virtual teleconference pitches in Phase 1 through prototyping in Phase 3.
While DIU is using a relatively innovative procurement method, the agency is not looking to build a new solution from scratch. Instead, the program is looking for "readily available, commercially viable automated machine learning solutions," the solicitation states.
The solicitation is clear that DIU is not looking for new RPA tools or cloud service providers. The program needs a machine learning platform to "identify and suggest corrections to business processes that are not limited to previously well-defined business logic methods."
The solicitation also includes a number of other requirements:
Any and all models must be extensible, interpretable, explainable, and/or auditable.
The solution must simplify data flow patterns—push/pull for streaming and batch—sharing, and exposure through defined standards using common message protocols.
The solution should use open standards where possible—modular, open systems architecture.
The vendor will be working closely with a government team of domain experts, developers and system administrators and engineers on model development and integration.
The vendor should be able to provide data integration support to include: extraction, transformation and loading of data from raw sources to a structured datastore and integration of model outputs into the larger RPA pipeline.