Report: Government Needs Investment, Cooperation on AI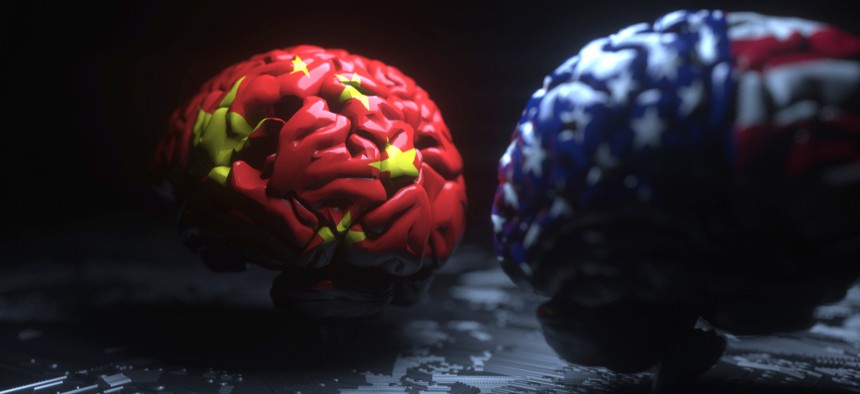 A report commissioned by industry and government AI leaders highlights national security challenges around artificial intelligence.
A report submitted to Congress in early November ties America's national security to its access and advancement of artificial intelligence capabilities.
The report, authored by the National Security Commission on Artificial Intelligence, forcefully argues the federal government must step up its investment and cooperation with the tech industry to maintain a competitive advantage against foreign adversaries.
China, for example,  is investing billions in AI and other emerging tech research and development while the U.S. "has returned to pre-Sputnik levels of federal R&D funding as a percentage of GDP." The report suggests China could overtake the U.S. in R&D spending in the next decade unless the government reverses course on 5% cuts to R&D spending in the proposed 2020 budget.
The impact of decreased R&D investment in AI further augments "brain drain" from academia to industry, the report states, suggesting the government's willingness to cut initial investment spending causes issues later with workforce training and development in those fields.
"This trend damages our ability to train the next generation and influences the direction of research toward more commercially-applied problems," the report states. "The government must help redirect this trend soon."
The report to Congress is an initial assessment by the NSCAI, a commission of more than a dozen tech experts chartered through the 2019 National Defense Authorization Act. The commission is headed by former Alphabet Chief Executive Officer Eric Schmidt and former Deputy Defense Secretary Robert Work and includes leaders of large tech firms and former government officials. Other areas of concern include a secure supply chain and the security and trustworthiness of data. Greg Gardner, Chief Architect of Government and Defense Solutions at NetApp, told Nextgov agencies will need to develop "a finely tuned data fabric" to fully develop and execute successful AI initiatives.
"This requires rigorous data security, data portability, data ethics, and data transparency," Gardner said. "A data fabric allows data to be vetted and transparently shared across different IT environments or be pushed directly from a tactical system to the cloud."
This report is more than 100 pages long and identifies five fundamental lines of effort that are necessary to preserve the U.S.' current AI advantage: invest in AI research and development; apply AI to national security missions; train and recruit AI talent; protect and build upon U.S. technology advantages; and marshal global AI cooperation.
The commission's final report is expected in October 2020.