Pentagon Will Spend $2 Billion Developing Next-Generation AI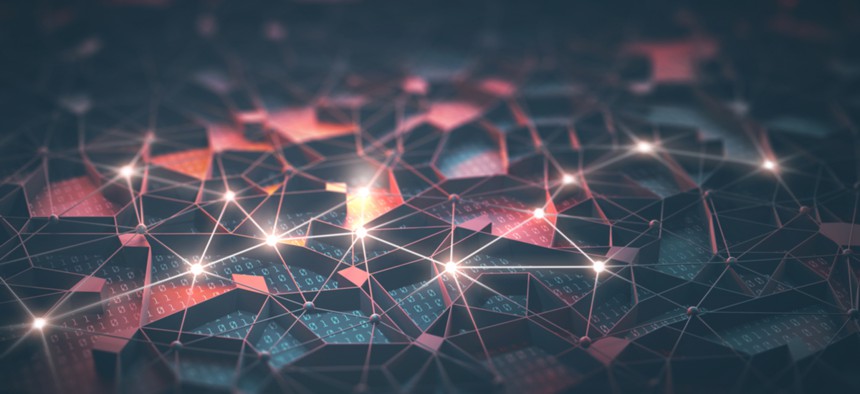 The massive investment comes as other global powers like China pour significant resources into their own programs.
The Pentagon on Friday announced it would spend more than $2 billion over the next five years to advance the foundations of artificial intelligence technology.
Through the AI Next initiative, the Defense Advanced Research Projects Agency aims to bring about so-called "third wave" AI, tools capable of human-like communication and contextual reasoning that far surpass the abilities of today's most advanced machine-learning and AI technology.
The massive investment comes as global powers like China pour significant resources into their own artificial intelligence R&D programs.
"I'm proud to tell you DARPA plans to continue and increase its support for AI research, with a significant focus on the technologies that underpin a third wave of AI," said DARPA Director Steven Walker in the announcement at the agency's 60th anniversary conference. "Let's … double down and commit to ensuring our country continues to create technological surprise for many more years and continues to use that surprise for a better and more secure world."
DARPA currently runs more than 20 programs to advance artificial intelligence and more than 60 others that explore ways the technology can bolster cybersecurity, share the electromagnetic spectrum and enable other breakthroughs. Under AI Next, the agency will spend the next year significantly expanding that portfolio.
Today, DARPA spends about $300 million annually on its AI endeavors, and AI Next would increase funding by another $100 million per year beginning in fiscal 2019, according to DARPA Chief of Communications Jared Adams.
While today's AI programs excel in image classification and predictive analytics, they still lack the common-sense reasoning needed to truly understand the world they try to describe. Given that awareness, systems could act more as partners than tools and add novel insights instead of simply spitting out data previously crunched.
In addition to exploring third wave AI, the new initiative will also look for ways to apply current technologies to solve "today's toughest security challenges" and increase transparency into how AI tools function, Walker said. The program will also study ethics and values related to AI, which is especially important as humans increasingly rely on the technology to make consequential decisions, he told reporters during a press panel.
Specific areas of exploration could include automating the security clearance and software accreditation processes, building more reliable AI tools and reducing the data needed to train those systems, DARPA said in a press release.
The new initiative kicked off in July with the launch of AI Exploration, a program that funds 18-month projects exploring high-risk, high-reward AI applications. AIE's short-term research sprints allow the agency to rapidly test different technologies before deciding where to invest more heavily.
Through AIE's streamlined contracting process, DARPA can release solicitations, review proposals and fund teams within 90 days. The first research opportunity under the program, called Automating Scientific Knowledge Extraction, aims to build AI that can generate, test and refine its own hypotheses. If successful, the project would essentially create a scientist from computer code.
Experts widely consider China to be the biggest threat to U.S. dominance in artificial intelligence. Last year its government released a plan for growing the technology into a $150 billion domestic industry by 2030, and the country's recent investments in R&D dwarfed America's own spending on artificial intelligence.
Still, Walker told reporters China's recent push had no bearing on DARPA's decision to launch AI Next.
"I knew coming into this job artificial intelligence was going to be an area I wanted to prioritize," he said. "We have elevated the priority, but I think it's more because of the promise of what the technology holds than what anybody else is doing."