Patent Office: Can AI, Quantum Determine If a New Idea Is Really New?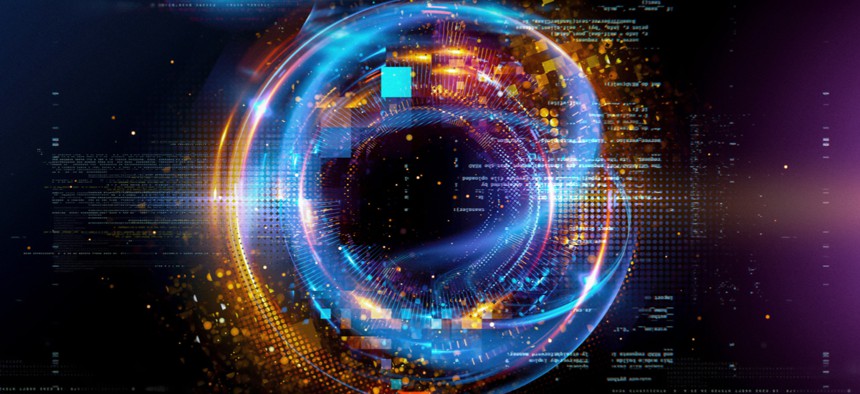 The U.S. Patent and Trademark Office wants to know if advanced tech like AI and quantum computing can help examiners sift through the world's collective knowledge.
The U.S. Patent and Trademark Office issued a request for information seeking industry and academia feedback on the latest artificial intelligence tools to bolster the agency's internal search function.
Patent examiners have a tough job: reviewing millions of applications submitted each year to discover whether they truly add anything unique to the body of human knowledge. As the amount of knowledge—data—in the world increases exponentially, those examiners are looking for help from a digital counterpart.
When an application is submitted to USPTO, an examiner is assigned the case and begins sifting through all available data related to the invention in an effort to find "prior art," or "all information that has been made available to the public in any form before a given date that might be relevant to a patent application's claims of novelty and non-obviousness," according to the office.
This task is fast becoming too large for any human to accomplish on their own. To that end, USPTO is conducting market research on how AI can help.
"As the world's body of knowledge increases and tools expand to access information, the ability of individuals to review and filter this content is increasingly challenging," agency officials said in a request for information posted on FedBizOpps Thursday. "The USPTO is interested in the use of advanced technology to supplement and improve USPTO search capabilities with differentiating solutions that utilize technological advances."
In the RFI, contracting officials note the ever-expanding amount of data, as well as the ever-changing nature of language, particularly when it comes to innovators.
"Applicants can be their own lexicographer, defining terms used within the application. Innovation often spurs new words and phrases beyond common vocabulary," the document states, noting earlier, "Language matters and terms evolve."
Due to these challenges, a basic keyword search isn't going to provide enough assistance to examiners, who are under increasing pressure to move quickly without compromising integrity. The office is hoping advances in AI technology can get them there.
While AI is the central focus, USPTO is also interested in hearing about how other advanced technologies like quantum computing, machine learning and natural language processing can help.
What USPTO doesn't want is a full IT makeover. Rather, the agency is looking for "a lightweight plugin(s) and/or widget technology to augment current USPTO search capabilities."
The document notes the purpose of this project is to increase transparency in the agency's operations, especially concerning patent decisions. "Because of this, solution capabilities must be transparent to the USPTO and as well as to the general public," the notice states. "Black box solutions will not be accepted."
The RFI includes a list of questions, as well as technical information on USPTO's current search capabilities.
Responses are due by 1 p.m. Nov. 2. Questions on the RFI are due no later than 1 p.m. Oct. 1.