Cyber Spies Don't Have to Worry About Robots Taking Their Jobs, Intel Chief Says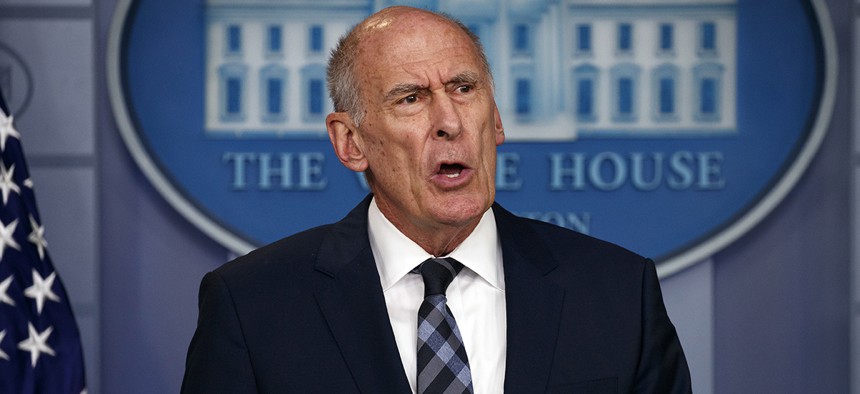 The intelligence community will still need human analysts even as when machine learning does more, Director of National Intelligence Dan Coats told students.
Young hackers and data miners gunning for a job in the intelligence community don't need to worry about robots taking their jobs, the director of national intelligence said Tuesday.
Artificial intelligence and machine learning systems will increasingly help intelligence agencies parse the behemoth troves of data they collect, but humans will still need to analyze that data for insights and ensure it isn't manipulated by foreign hackers, Director Dan Coats told students at The Citadel military college in Charleston, S.C.
"Our problem now is we have more demand for these types of capabilities, including cybersecurity and so forth, than we have supply," Coats said in response to a student question about the effects of artificial intelligence on hiring.
"Those of you who are in curriculum that fits into those categories, Uncle Sam needs you," Coats continued.
The military's broad goal with artificial intelligence, Coats said is to gather insights from satellites and other signals intelligence sources where the data is now too voluminous to be sufficiently analyzed.
The National Geospatial-Intelligence Agency, for example, is only able to analyze about 20 percent of the data it collects right now, Coats said. NGA launched a hiring surge in 2017 to recruit tech talent from Silicon Valley and elsewhere.
"What artificial intelligence and machine learning is going to give us is the ability to sort out the essential, but, in the end, a judgment has to be made relative to that information and that cannot be made by a machine," Coats said.
"We don't want to rely on [a machine] because we know, number one, it can be hacked," he said. "Secondly, human experience, human judgment is something you can't teach a machine. So, there will be plenty of jobs available."
Coats focused much of his address at the military college on the rise of China as a cyber and ideological U.S. adversary. He criticized, in particular, a Chinese system for assigning some citizens social credit scores that can affect their access to credit cards and loans, among other things.