Author Archive
Camille Tuutti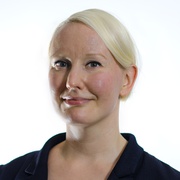 Camille Tuutti is the former executive editor of Nextgov. She previously served as editorial director at FedScoop, and prior to that, was a staff writer and "People" section editor at Federal Computer Week. Before that, Camille worked as a news editor and reporter, covering government contracting and IT. In her spare time, Camille serves as vice president of communications for Young AFCEA Bethesda. Originally from Stockholm, Sweden, Camille has lived in London and New York before touching down in Washington, D.C. She currently lives in NE D.C.
Nextgov Sponsored
Two technology giants joined forces to create a unique experience for first responders, bringing together the crisis management community with technology innovators who help empower them to respond to any disaster, natural or manmade.
Nextgov Sponsored
During Operation Convergent Response 2019, a simulation illustrates how technology helps cyber teams and first responders mitigate a powerful ransomware attack on critical infrastructure.
Nextgov Sponsored
During Operation Convergent Response 2019, technology takes center stage as AI and telehealth tools demonstrate emergency response and communications in a decontamination simulation.
---
Nextgov Sponsored
As wildfires ravage different parts of the country, a demonstration at Operation Convergent Response 2019 shows how coordinated efforts fueled by technology can help first responders on the ground tackle a blazing inferno.
Digital Government
"We have an incredible allergy toward failure," said General Services Administration's top technologist.
Cybersecurity
Rep. Jim Langevin warned authorizing hacking back could result in collateral damage.
Cybersecurity
Although much of Trump's cyber agenda remains murky, we've seen drafts hinting at his priorities.
Emerging Tech
A growing drone startup uses augmented reality to drop the joystick.
Artificial Intelligence
Hint: Expect cyber, data and emerging technologies such as virtual reality to remain in the spotlight, while areas like customer service will see less momentum.
Cybersecurity
"These thefts and disclosures are intended to interfere with the U.S. election process," said a statement from DHS and the Office of the Director of National Intelligence.
Cybersecurity
Learn how agencies are protecting themselves against both the careless employee and the one who went rogue.
Cybersecurity
Trained as a forensic psychologist and a 15-year veteran of the Naval Criminal Investigative Service, Michael Gelles has long had an interest in the bad guys within organizations.
Cybersecurity
Despite housing tens of millions of people's sensitive information and 180-plus databases, the agency doesn't "even have the most basic of tools" to protect them against breaches, Chaffetz said.
Modernization
Riverbed Technology IT executives Jerry Kennelly and Davis Johnson share insight into the government's tech challenges, legacy systems and why Silicon Valley matters more than ever to government.
Digital Government
This ebook features two more recent Tech + Tequila themes: open source and the internet of things.