Author Archive
Brandi Vincent
Staff Correspondent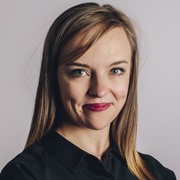 Brandi Vincent reports on the federal government's use of and policies for emerging technologies—including but not limited to supercomputing, artificial intelligence, biometrics, and the internet of things. Before joining Nextgov, Brandi helped create news for millennials at Snapchat and mixed media at NBC News. She grew up in south Louisiana and received a master's in journalism from the University of Maryland.
Cybersecurity
The Defense Department created a web portal to fact-check bad information circulating about the coronavirus and the military's response.
Emerging Tech
The SETI Institute is rethinking how to host its competitive summer program for accelerating space research.
Data
The agency is accepting applications through April 28.
---
Emerging Tech
The national laboratory enlisted collaborators to help unleash a range of efforts in the fight against COVID-19.
CIO Briefing
Resources include do-it-yourself activities, live virtual chats with astronauts and officials, formal lesson plans, an augmented reality app and more.
Emerging Tech
The pandemic-driven outcomes could demonstrate what strategic interagency efforts around emerging technology can catalyze in rapid timeframes.
IT Modernization
The Centers for Medicare and Medicaid will temporarily expand telehealth options, including for new patients and audio-only appointments.
IT Modernization
Medicare recipients must use video-conferencing for remote visits with care providers.
CIO Briefing
Federal prosecutors said the alleged scheme involved billing Medicare for reimbursable medical tests regardless of whether they were medically necessary. 
Emerging Tech
The anticipated challenges aim to spur innovations in space technology and produce a base of the future.
CIO Briefing
The agency developed the master question list as a reference for government decision-makers.
Emerging Tech
The strategy focuses on four lines of effort and will guide how the government approaches 5G for the near future.
CIO Briefing
During a virtual town hall, Mark Esper warned employees to be vigilant for phishing attempts and practice good cyber hygiene.
Emerging Tech
Scientists are tapping supercomputers to learn more about the novel coronavirus.
Emerging Tech
The Coronavirus Self-Checker, a Microsoft-powered health care tool, was built to alleviate some of the initial screening strains health care providers are experiencing.
Emerging Tech
The smuggled goods included drugs, phones, saw blades, syringes and Just for Men hair color.
Emerging Tech
The Defense Department released the third of four requests for 5G prototypes to test at military bases.
Policy
William Barr directed federal attorneys to go after people behind phony cures and phishing schemes.