Author Archive
Brandi Vincent
Staff Correspondent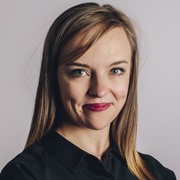 Brandi Vincent reports on the federal government's use of and policies for emerging technologies—including but not limited to supercomputing, artificial intelligence, biometrics, and the internet of things. Before joining Nextgov, Brandi helped create news for millennials at Snapchat and mixed media at NBC News. She grew up in south Louisiana and received a master's in journalism from the University of Maryland.
Cybersecurity
Sens. Ed Markey and Richard Blumenthal want to know why investors have been made more aware of the potential cyber risks than the general public.
IT Modernization
GSA's Office of Telecommunication Services director offered an update on the contract vehicle's progress.
Emerging Tech
Cloud technology makes piloting artificial intelligence efforts easier than ever, but hard decisions around bias need to be confronted.
---
IT Modernization
The funding is appropriated through the Rural Energy for America Program.
Emerging Tech
If a nuclear device detonated, the resource CDC wants would support state and local health departments' ability to respond.
Emerging Tech
The agency is actively engaging stakeholders to create new opportunities for training and innovation.
IT Modernization
The ultimate goal is to eliminate the barriers vets face in retrieving the information they need most.
Emerging Tech
It's another example of federal automation at work.
Emerging Tech
The end goal would be a device that recognizes the user based on hundreds of behaviors.
Policy
Contracting officers will have new disclosure provisions to include in contracts issued after Aug. 13.
Emerging Tech
Cray will build El Capitan, an exascale high-performance supercomputer, to manage the nation's nuclear stockpile.
IT Modernization
It's part of the agency's broader effort to improve transparency.
Emerging Tech
The Podimetrics SmartMat helps veterans detect the condition and highlights the power of public-private collaboration.
Emerging Tech
The $25 million contract will provide a system that supports the military's complex weather prediction workloads.
Data
The agency is inviting interested small business vendors to submit a quote by early September.
Policy
The congressmen want to know how the platform is working to help stop the spread of extremist content online.
IT Modernization
The housing finance agency aims to streamline its protocols into one intuitive smartphone app.
Cybersecurity
Part of that is taking on the mindset of your potential attacker, an agency official said.
IT Modernization
CIO Renee Wynn weighed in on how America's space agency embraces mobility.
Emerging Tech
The agency is looking for a computational model of a whole human heart for simulated device testing.