White House calls on agencies to 'aggressively' reduce telework this fall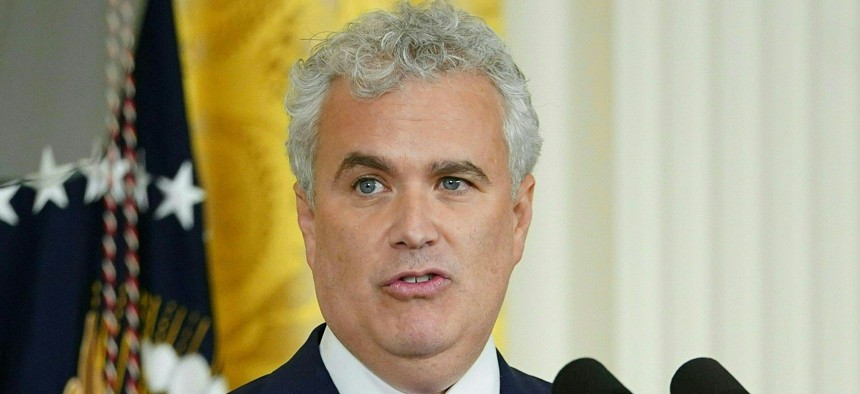 Chief of Staff Jeff Zients instructed agencies to focus on executing plans to increase in-person work in September and October.
The White House is continuing its push for federal agencies to reduce their use of telework and remote work in favor of more in-person time at the office this fall.
White House Chief of Staff Jeff Zients said in an email to Cabinet officials Friday that increasing the amount of in-person work is "critical" to federal agencies' workplace culture and to meeting missions, although agencies will continue to make use of telework and authorize some workers to work fully remotely. The email's existence was first reported by Axios.
"These changes will allow us to harness the benefits of enhanced flexibilities that we experienced during the pandemic, while ensuring we have the in-person time we need to build a strong culture, trust and interpersonal connections," Zients wrote. "Newer members of our team—who will be the future leaders of our agencies—will have the face-to-face interaction critical to learning and growing, and all of us will benefit from the increases in morale, teamwork and productivity that come from in-person work."
The email marks a continuation of an initiative first announced in April guidance from the Office of Management and Budget, which instructed agencies to "substantially increase meaningful in-person work at federal offices." OMB's memo tasked agencies will developing new work environment plans with the general expectation that agency headquarters will increase in-person presence at federal offices, as well as developing new systems to monitor "organizational health" and performance on an ongoing basis.
Zients' email last week indicated that the target date for implementing those new work environment plans will be by November.
"As we look towards the fall, and with the end of the COVID-19 public health emergency, your agencies will be implementing increases in the amount of in-person work for your team," he wrote. "This is a priority of the president—and I am looking to each of you to aggressively execute this shift in September and October."
The OMB guidance appeared to mark a change in the Biden administration's approach to telework and remote work policies. Prior to last spring, the Office of Personnel Management had issued guidance encouraging agencies to make telework a fundamental part of their workforce policies and to codify remote work as an alternative work arrangement, seeing the workplace flexibilities as a key tool to recruiting and retaining federal workers.
But the government's approach to telework has received criticism from Republicans in Congress, weary from constituent complaints about agency service backlogs, and local government officials worried about the faltering commercial real estate market. A recent report from the Government Accountability Office found that a majority of major federal agency headquarters are only one-quarter full, while none are at 50% capacity or more.
Republicans on the House Oversight and Accountability Committee last week sent letters to 23 federal agencies renewing a request for information about their telework and remote work policies, insinuating that officials have been "intentionally withholding" information or have been derelict in their duty to track the usage of telework.
"Central to this issue is the concern that agencies—and certainly the Office of Personnel Management—do not know how many employees are teleworking or working remotely, or how often they do so," the lawmakers wrote. "A recent GAO study on federal building occupancy suggests that in some components of federal agencies, the vast majority of employees are not coming to the office on a regular basis."
Federal employee unions reacted to Zients' directive by noting that federal employees have largely been successful in delivering on their agencies missions while engaging in telework and remote work, both during the COVID-19 pandemic and in the prior decade, and warning that agencies must negotiate with labor partners before implementing any changes to their workforce flexibility policies.
"Thousands of frontline federal employees successfully performed on telework schedules for many years before the pandemic because agencies have long agreed that flexible scheduling is a viable option that does not hinder performance or services to citizens and creates work-life balance, reduces commuting costs, and helps recruit and retain employees," said Tony Reardon, national president of the National Treasury Employees Union. "These contracts, bargained collectively at the agencies where we represent frontline employees, remain in effect. Any changes to those agreements would have to be negotiated with NTEU."
The American Federation of Government Employees suggested that agencies work with their employee unions to find a middle ground. "Now that the federal public health emergency around COVID-19 is over, agencies should take advantage of the collective bargaining process and labor-management partnerships to design hybrid working arrangements that allow both for meaningful in-person [work] as well as remote and telework options," AFGE President Everett Kelley said. "Working in partnership with workers' unions will help agencies balance competing interests and achieve a workable, long-term solution that builds strong culture, achieves our shared mission and protects the productivity gains and benefits to recruitment and retention realized through expanding remote and telework options beyond pre-pandemic levels."