Biden formally announces 5.2% average pay raise for feds in 2024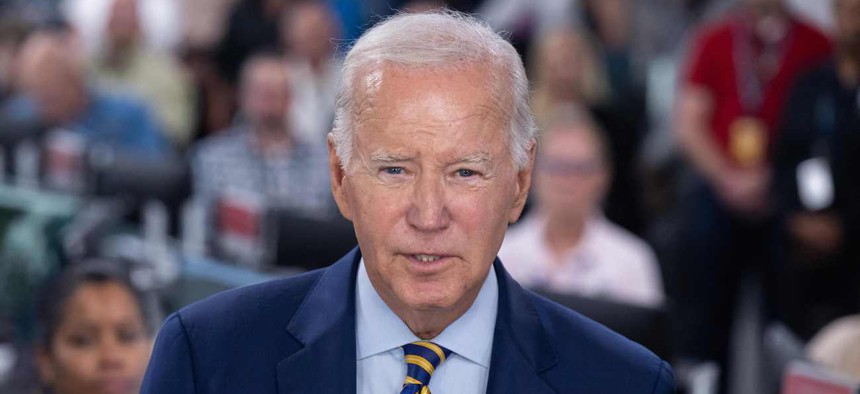 The annual declaration of a national emergency preventing large automatic raises from taking effect solidifies that 0.5% of the total pay increase figure will go toward an average boost in locality pay.
President Biden on Thursday formalized his plan to provide civilian federal employees with an average 5.2% pay increase, their largest in four decades, in a letter to congressional leaders.
In March, Biden first announced his pay raise plan as part of his fiscal 2024 budget proposal, recommending the largest pay increase for civilian federal workers since the Carter administration. Thursday's announcement confirms that, if implemented, federal employees will see an across-the-board increase in basic pay of 4.7% and an average 0.5% boost to locality pay.
In his letter, Biden said the pay raise is critical to his administration's goal of ensuring that the federal government is a model employer and able to attract qualified candidates to join the workforce.
"We must attract, recruit and retain a skilled workforce with fair compensation in order to keep our government running, deliver services and meet our nation's challenges today and tomorrow," Biden wrote. "This alternative pay plan decision will continue to allow the federal government to employ a well-qualified federal workforce on behalf of the American people, keeping pace with prior wage growth in the labor market."
Each August, the president must issue an alternative pay plan that determines an "economic emergency" precludes much larger automatic increases in locality pay from taking effect, per the Federal Employees Pay Comparability Act. The step has been largely perfunctory since the law was enacted in 1990.
Biden's pay plan still falls short of proposals supported by federal employee groups and some Democratic lawmakers, such as the Federal Adjustment of Income Rates Act, which calls for an average 8.7% raise for feds next year—split between a 4.7% increase in basic pay and an average 4.0% increase in locality pay—and Congress thus far has been disinclined to overrule the president's pay proposal for next year. But labor unions on Thursday applauded the White House plan anyway.
"Federal employees would get their largest pay raise in 43 years under President Biden's announcement today that officially proposes to increase salaries by an average of 5.2%, a significant endorsement of federal employees and the valuable work they do," said Doreen Greenwald, national president of the National Treasury Employees Union. "Frontline federal employees earn 24.09% less than people in similar private sector jobs, according to the Federal Salary Council, so Biden's plan would help chip away at that deficit and make federal employment more competitive."