Survey: 45% of Gov Employees May Walk if Agencies Reduce Remote Work Flexibility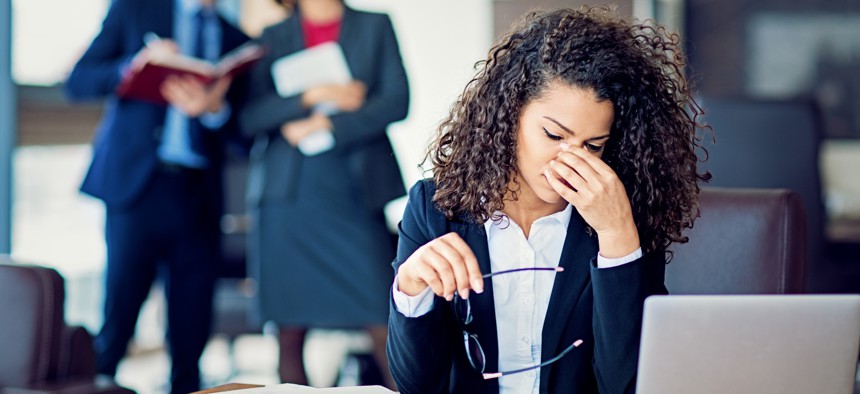 Nearly half of government employees will look for another job if their agencies reduce remote work flexibility, according to a survey released Tuesday by Arlington, Va.-based firm Eagle Hill Consulting.
The survey, which polled more than 500 federal, state and local government employees from April 27 to May 1, further found that about 60% of remote and hybrid government workers would say their job satisfaction would decrease if their employer mandated a return to in-person work. More than 4 in 10 (44%) said their productivity would decrease with such a requirement, and 45% said any mandate for in-person work would reduce the time they stay with their current employer.
The results come as federal agencies—and the Biden administration—decide how to handle the federal workforce during the post-COVID era. Recent guidance from the Office of Management and Budget calls for agencies to "substantially increase meaningful in-person work at federal offices."
"Government leaders are on a tightrope when it comes to the new telework and organizational health guidance released by the Office of Management and Budget," Melissa Jezior, president and chief executive officer of Eagle Hill Consulting, said in a statement. "While the guidance recognizes the need to balance organizational productivity and worker retention, crafting new work environment plans will be complicated. Our research suggests that approaches to remote and hybrid government work must be nuanced and there is common ground."
More than 2 in 3 surveyed government employees (68%) say they trust the person who determines where they work—typically an immediate supervisor—and employees are almost evenly split on whether they are more productive spending a full day in the office versus part of a day. The biggest concerns about more in-person work among surveyed respondents were work/life balance (45%), commute times (43%), higher costs (38%) and increased stress (34%).
Almost 2 in 3 respondents (64%) said "deep thinking" was work best achieved remotely.