DHS Unveils Departmentwide Body Camera Policy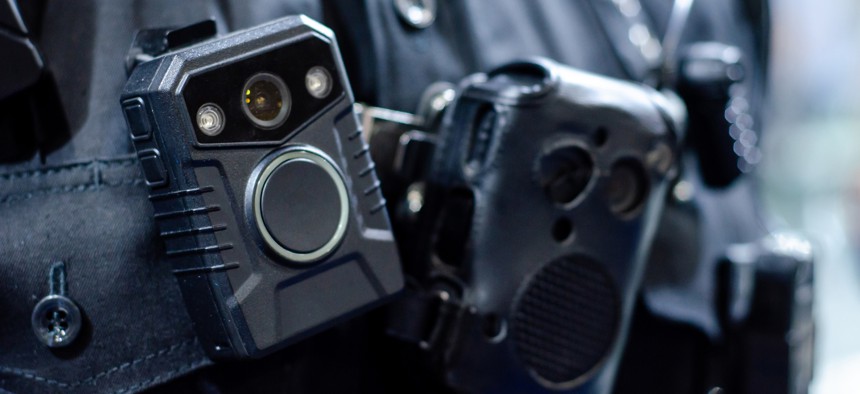 The new guidance restricts law enforcement agencies under DHS's authority from using body-worn cameras "for the sole purpose of recording individuals who are engaged in activity protected by the First Amendment."
The Department of Homeland Security announced on Tuesday that it has issued its first departmentwide policy on the use of body-worn cameras—or BWCs—for all nine of its operational law enforcement agencies.
The department's new guidance—which was signed into effect on Monday—outlined that BWCs will be used "for law enforcement interaction with the public in response to emergency calls, pre-planned arrests or during execution of a search or seizure warrant or order." 
The policy stated, however, that body cameras will not be used "for the sole purpose of recording individuals who are engaged in activity protected by the First Amendment," including those "who are lawfully exercising their freedom of speech, press, association, assembly, religion or the right to petition the government for redress of grievances."
"Our ability to secure the homeland rests on public trust, which is built through accountability, transparency and effectiveness in our law enforcement practices," DHS Secretary Alejandro Mayorkas said in a statement. "Today's policy announcement is designed to advance these essential values." 
DHS said in a press release that the policy was issued in response to President Joe Biden's May 2022 executive order on accountable policing and criminal justice practices, which called in part for law enforcement agencies "that regularly conduct patrols or routinely engage with the public in response to emergency calls" to ensure "that cameras are worn and activated in all appropriate circumstances, including during arrests and searches." 
While DHS's new policy establishes requirements for the use of BWCs, the department said that not all law enforcement officers and agents under its purview will immediately be issued cameras. It noted that "some DHS agencies and offices already have deployed BWCs to its officers and agents; others will begin to employ cameras as funding becomes available."
Customs and Border Protection has issued approximately 7,000 BWCs to officers and agents as part of an initiative that began in August 2021, and Immigration and Customs Enforcement also began piloting the use of BWCs "in select cities" in December 2021. In response to Biden's executive order, the Secret Service issued its own agency-specific policy on the use of BWCs in September 2022.
DHS said that it is "working to secure the resources required to ensure full implementation of the new policy" and added that "once DHS officers and agents receive BWCs, they will be subject to their agency's or office's policy."
Agencies covered by DHS's guidance have 180 days from the policy's implementation to "draft and issue, or update, their own individual BWC policies that meet or exceed the requirements set forth in the departmentwide policy." Agency-specific policies will also be required to include "the responsibilities for [law enforcement officers] to carry, operate, maintain and secure BWC equipment, including when to activate and deactivate the BWCs." 
"Requiring the use of body-worn cameras by our law enforcement officers and agents is another important step DHS is making to bring our law enforcement workforce to the forefront of innovation, and to further build public trust and confidence in the thousands of dedicated and professional law enforcement officers at DHS," Mayorkas said.