Treasury Defines Key Terms Under Executive Order on Cryptocurrencies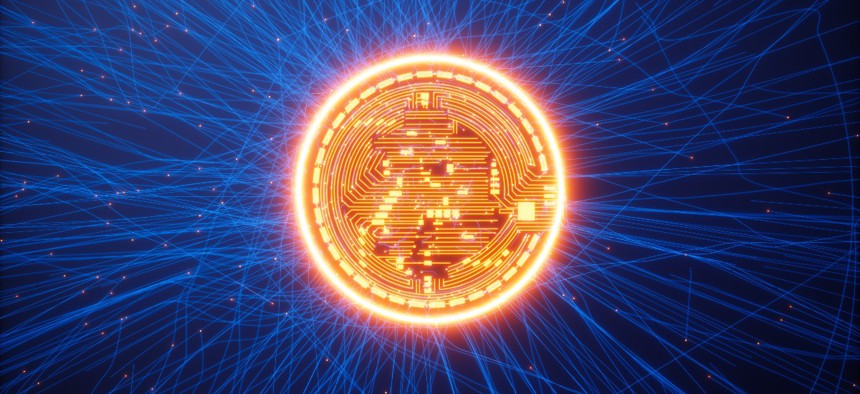 The department wants feedback for implementing the order to "ensure responsible development of digital assets."
The Treasury Department provided some insight into the Biden administration's vision for cryptocurrencies by defining "mass adoption" and "digital assets," terms used in a recent executive order instructing the agency to investigate and report to the president on the risks and opportunities of developing a central bank digital currency. 
"The term 'mass adoption' is defined as a scenario where digital assets are accepted and used by the U.S. public on a large scale," reads a notice set to publish in the Federal Register Friday. "For example, mass adoption of digital assets as a payment method would translate to use and acceptance of cryptocurrencies as a common and regular payment method for goods and services."
The department is seeking public comment over the next 30 days on what many leading policymakers see as an inevitable future amid an explosion in "digital assets," even as the value of cryptocurrencies continues to decline in the stock market.
"The term "digital assets" refers to all [Central Bank Digital Currencies], regardless of the technology used, and to other representations of value, financial assets and instruments, or claims that are used to make payments or investments, or to transmit or exchange funds or the equivalent thereof, that are issued or represented in digital form through the use of distributed ledger technology," the notice reads. "For example, digital assets include cryptocurrencies, stablecoins and CBDCs."
The executive order acknowledges potential benefits and drawbacks of the expanded use of digital assets, with an emphasis on protecting vulnerable communities which may not have access to traditional banking services and financing.
"Regardless of the label used, a digital asset may be, among other things, a security, a commodity, a derivative or other financial product," Treasury wrote. "Digital assets may be exchanged across digital asset trading platforms, including centralized and decentralized finance platforms, or through peer-to-peer technologies."