The Federal CX Moves that Mattered in 2020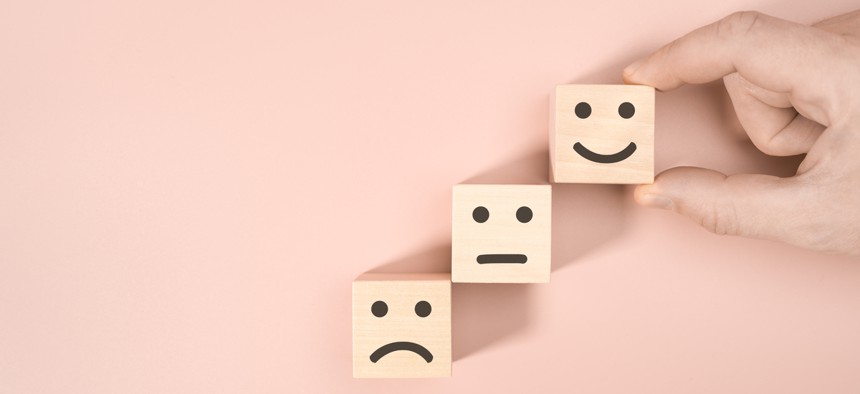 Experts expect momentum in improving service delivery and customer experience to continue under the coming Biden administration.
Collectively, federal agencies improved their customer experience scores in 2020 to all-time highs, even amid a pandemic that fundamentally changed the way agencies deliver services.
Here's a look at some of the most important developments in customer experience policies and implementations in 2020 that may contribute to future efforts in the new year—and incoming Biden administration.
Guidance Updates
In its annual update to Circular A-11 Guidance, the Office of Management and Budget included significant changes to Section 280, which deals entirely with improving service delivery and customer experience across agencies. First, the guidance expanded the definition of key terms—"customer" and "service delivery" as they relate to agencies. For the first time, the federal government's policy shop defined customers as more than just individuals receiving a government service. The new definition includes individuals businesses or organizations that interact with a government agency or program, "either directly or via a federal contractor or even a federally-funded program." The expanded definition also includes federal employees themselves—also a first.
OMB also added two additional services—data and research and regulatory—to the previous five types of government services outlined first in 2019: administrative, benefits, compliance, recreation and informational. But most importantly, OMB's Section 280 guidance updated the ways in which policymakers will measure customer experience, promoting real-time measurements when possible. The guidance focuses heavily on High Impact Service Providers, or HISPs, which must submit their customer experience data for public reporting.
In 2021, agencies are expected to compile more data on customer experience—and publish more to the public—than ever before, largely due to these OMB changes.
The 'Hardwiring' of Customer Experience Across Government
The previous President's Management Agenda, which expired in September at the close of fiscal 2020, notably featured a cross-agency priority goal on improving customer experience. The customer experience CAP team—led by Veterans Affairs Department Chief Veterans Experience Officer Lynda Davis and Deputy Chief Veterans Experience Officer Barbara Morton—spent two years compiling customer experience-based resources and policy changes across government to share with sister agencies.
As part of their effort to hardwire customer experience across government, Morton, Davis and their peers compiled a Customer Experience Cookbook to serve as a resource for future customer experience practitioners.
"As the lead agency partner, we wanted to do something like a capstone project to capture the lessons we've learned at VA and across government," Morton told Nextgov in November. "In government, and certainly in VA's case, there are tons of levers—or ingredients—common across federal executive agencies."
The guide also includes several customer experience use cases across the government, including the Transportation Security Administration, Federal Student Aid and the Bureau of Trust Funds Administration.
Momentum for 2021?
The Trump administration continued efforts in customer experience began under the Obama administration, and experts believe the incoming Biden administration won't waste the momentum in the discipline. The Biden/Harris administration has outlined priority areas of combatting COVID-19, economic recovery, racial equity and climate change, and recently highlighted cybersecurity as a focus area following wide-scale hacks of government systems.
Following Biden's election win, Forrester released a report calling for the incoming president and Congress to work together to create a federal chief customer officer position to oversee customer experience efforts across government.
The report suggests the previous administrations have built a baseline for customer experience as a discipline and suggests that improvements in measurements and scores across agencies are indications that agencies don't want to regress.
"Because of the hard work of the Office of Management and Budget and other agencies, there is a federal-wide baseline understanding of customer experience now and years-long work in customer experience that has made the time ripe for moving to the next level," Rick Parrish, principal analyst at Forrester and co-author of the report, told Nextgov in December.