A Message to FEMA: Respond to Disasters Differently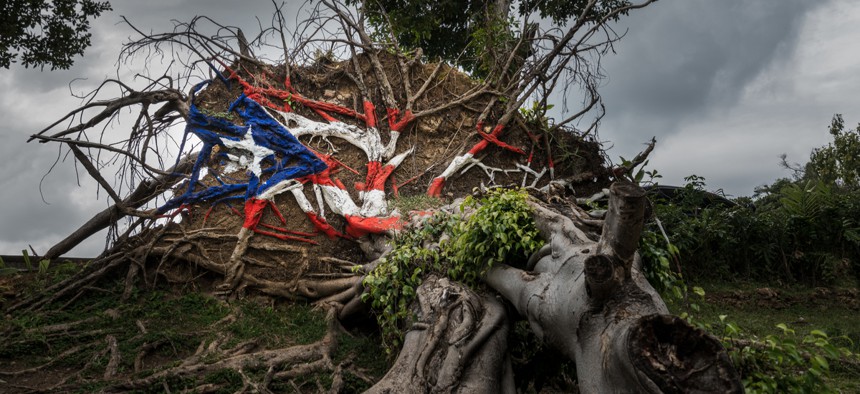 Providing money to states faster after disasters, and offering funds before they strike, would make communities safer, governors said.
WASHINGTON — The federal government could do more to get money into the hands of state leaders before major disasters strike, governors said Sunday.
When Massachusetts Gov. Charlie Baker took office in 2015, the state experienced snow 28 days in a row—prompting it to get serious about systemic vulnerability planning.
During the National Governors Association winter meeting, Baker's message to the Federal Emergency Management Agency was to consider helping fund such planning ahead of disasters.
"If the feds want to save a lot of money on what FEMA does, you would help us figure out how to pay for some of this vulnerability planning," Baker said. "We're happy to do it, but I do think it's a big missed opportunity for you guys because we're nudging communities into this stuff; we're using our money, which is usually a bigger incentive than asking them to pay for it."
FEMA Deputy Administrator Pete Gaynor responded that the agency is trying to offer as much pre-disaster mitigation funding as possible. The agency is "under some stress" because of the scope of disasters that came one after another, Gaynor said.
Gaynor advised states to develop stronger community building codes, pre-disaster mitigation projects, disaster relief funds for individual assistance, speedy post-disaster housing plans, and long-term recovery teams.
"National priorities may not be aligned with state and local priorities, so we want you to ensure that you have developed capabilities … so that you can rapidly respond short term," Gaynor said. "If your plan is just to rely on the federal government for disaster assistance, that plan may fail."
Puerto Rico Gov. Ricardo Rosselló said federal statutes need to be changed to expedite disbursement of response funds—particularly after minor disasters. In 2017, that kind of policy would have allowed his territory to deploy resources more quickly when it was hit first by Hurricane Irma and then devastated by Hurricane Maria.
Seventeen months after Hurricane Katrina ravaged New Orleans in 2005, about 2,500 recovery project worksheets to rebuild public buildings had been issued—compared to 64 in Puerto Rico's case at present, Rosselló said.
"There are disasters, and then there are major catastrophes," he said. "We lived both of them in the span of two weeks, and I think we need to start considering both levels on a different track."
Since 2013, California has seen 12 presidential disaster declarations issued after each exceeded $60 million in damages. The 2017 and 2018 wildfire seasons were particularly devastating, razing about 30,000 residences and 10,000 commercial structures, claiming about 300 lives, and causing close to $30 billion in damages.
Mark Ghilarducci, director of the California Office of Emergency Services, said federal agencies need to afford the state greater flexibility for recovery efforts like post-disaster housing. Sometimes it takes six months to get a manufactured housing unit on the ground after a minor disaster, and if the area is hard to access the cost can reach $100,000.
"Maybe we should just give $100,000 to the disaster victim and call it good and let them go on their way," Ghilarducci said. "This is a time, in our opinion, that we need to look at the larger way we respond to disasters."
The insurance industry should also be included in discussions, he added, because it also benefits from financing pre-disaster mitigation and housing retrofits.
States are investing in systems to keep the lines of communication open after a disaster, participants said. Ghilarducci said California has invested in public safety-grade resiliency through backup power, defensible-space planning, and cells on wheels.
Louisiana has spent more than any other state on redundant, interoperable communications, said Louisiana Gov. John Bel Edwards.
"You're in control of nothing if you can't talk," Edwards said.