Trump Signed NDAA. Here's What It Means.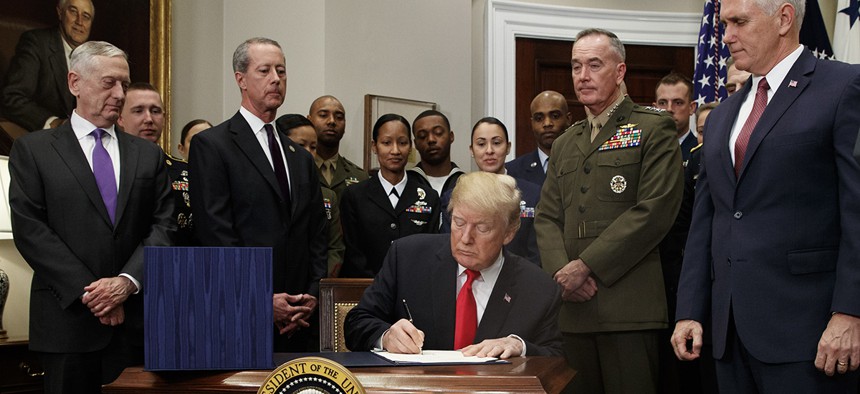 President Donald Trump signed a major government technology revamp into law Tuesday as part of an annual defense policy bill, the National Defense Authorization Act.
The bipartisan Modernizing Government Technology Act, championed by Rep. Will Hurd, R-Texas, creates a $500 million central modernization fund over two years that agencies can borrow against to update aging and insecure systems. It also creates working IT capital funds where agencies can stash savings from other modernization projects—like migrating legacy systems to cloud computing—to use for future IT projects.
"Excited to announce that my 12th piece of legislation, the #MGTAct, has just been signed into law, so that federal agencies can provide a better product to Americans by securing & updating IT systems. Thank you to all who helped get this across the finish line!," Hurd tweeted.
Hurd first introduced the legislation in 2016 as a standalone bill but it failed to pass before the end of that Congress. Sens. Jerry Moran, R-Kans., and Tom Udall, D-N.M., introduced the MGT Act as an amendment to NDAA earlier this year, emphasizing its bipartisanship.
It shouldn't take long for MGT's effects to set in.
"Seeing this act signed is music to CIOs' ears," Jimmie Adkins, vice president for federal at the networking company Ruckus, told Nextgov.
Federal CIOs have long been eager to modernize systems but lacked the money to do so, he said. "This will give them teeth to go out and modernize their networks," he said."
Here are some other highlights from the mammoth defense policy bill:
Defense Will Do Its Own Security Clearances Again
The Pentagon must come up with a "phased transition plan" to shift background investigations for defense personnel from the Office Personnel Management's National Background Investigations Bureau to the Defense Security Service. The law also allows DSS to hire more personnel to tackle the security clearance backlog and flags the Defense Digital Service, the Pentagon's internal tech startup, as a possible support organization for the transition.
Government Looks at E-commerce Options
The government will experiment with an industry-run e-commerce portal for commercial goods. Though the amendment—nicknamed the Amazon amendment—initially envisioned a single portal provided by a single e-commerce provider, it morphed into a phased approach with multiple contracts issued to multiple e-commerce portal providers. The General Services Administration will have 90 days to develop an implementation plan and will work with the Office of Management and Budget to determine which products and services should be available.
CIO Changes
The Defense Department's CIO will become a presidentially appointed, Senate-confirmed position and report directly to the Defense Secretary. The CIO will focus on managing the departmentwide budget and developing cyber capabilities and standards while some other IT duties would shift to the newly created chief management officer role.
Bid Protest Changes
NDAA included a pilot program in which the Defense Department will "determine the effectiveness of requiring contractors to reimburse [Defense] for costs incurred in processing covered protests." That means companies with $250 million or more in revenue the previous year will pay the government's costs if they protest a contract award and lose. The pilot begins in 2019 and will last for three years.  Before the pilot, the department will have to determine exactly what costs losing vendors would be forced to pay. For the first time in five years, bid protests decreased in fiscal 2017 after an all-time peak last year.