Continuing Resolution on Congress' Post-Holiday To-Do List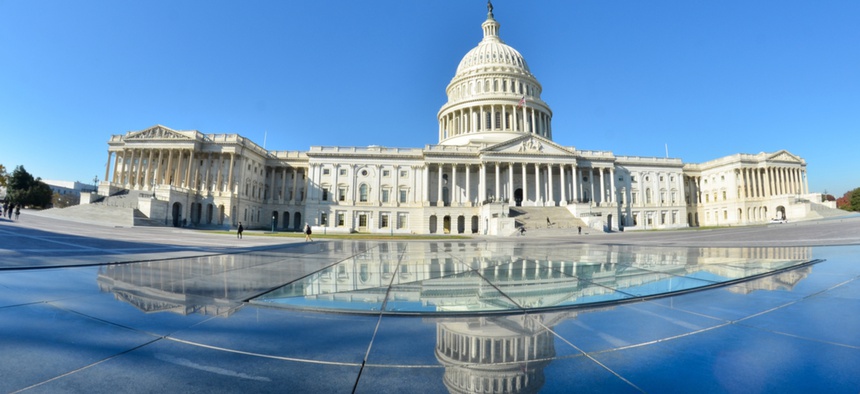 Congress moved along IT modernization and defense authorization bills but still faces funding the government.
Lawmakers head off to Thanksgiving recess having passed the defense authorization bill but face a government that runs out of money when they return.
Speaker Paul Ryan, R-Wisc., Tuesday said Congress will likely extend the continuing resolution beyond Dec. 8 while lawmakers work on appropriation bills.
VA Wants Fast Money for Health Records Deal
Veterans Affairs Secretary David Shulkin on Wednesday told House lawmakers the department needs to move around some money before it can sign a contract to replace its VistA health records system. Shuklin told lawmakers VA needs to reprogram more than $780 million to sign a contract with Cerner, the company that's rolling out the Defense Department's health records systems at locations in the Pacific Northwest. The department can free up about half the funds, but continuing resolution restrictions block the rest.
Delaying the funds could drive up contract costs by 5 percent, Shulkin told lawmakers, though the estimated total value wasn't disclosed during the open hearing. VA announced its intent to sole-source a contract to Cerner in June.
Defense, Homeland Security Spending Deets Coming
Senate Appropriations Chairman Thad Cochran, R-Miss., plans to release updated versions, known as chairman's marks of four remaining spending bills next week, he said Thursday. That includes the tech and cyber heavy bills at the Homeland Security and Defense departments.
Energy and Commerce Goes Cyber Wild
The Health and Human Services Department should convene a task force to examine the possibility of creating a bill of materials—essentially a tech ingredients list—for all major medical technology so those technologies can be better protected against data breaches and cyberattacks, House Energy and Commerce Chairman Greg Walden, R-Ore., urged Thursday
That followed a Tuesday letter with ranking member Frank Pallone, D-N.J., in which Walden alleged possible HHS retaliation against cybersecurity whistleblowers. The chairman and Pallone also teamed up Friday with eight pages of questions for the embattled data broker Equifax about its massive breach of personal information that affected about 40 percent of the U.S. population.
Election Security Won't Come Cheap
Want to secure the 2018 and 2020 elections against Russian hackers? It'll cost you. That's the message from a Democratic election security task force that's taken testimony from various election officials the past five months. The task force's preliminary recommendations include boosting funding for the Homeland Security Department and Election Assistance Commission and issuing grants for state election officials to help secure election cybersecurity. The report also urges post-election paper trail audits and better cyber threat information sharing.
DHS Nominee Advances
The Senate Homeland Security Committee forwarded Kirstjen Nielsen's nomination to be the next Homeland Security Secretary Tuesday on an 11-4 vote. Some committee Democrats expressed concern about Nielsen's nomination in light of reports White House Chief of Staff and former Homeland Security Secretary John Kelly strong armed the department's acting leader on immigration issues. Nielsen was Kelly's deputy at both Homeland Security and the White House.
Committee Chairman Ron Johnson, R-Wisc., said he hopes Nielsen will receive a floor vote "as quickly as possible," but there's no word yet on when that will be.
Surveillance Compromise Intro'd in Senate
A Senate version of the House's compromise legislation on a controversial surveillance authority was introduced Friday by Sens. Patrick Leahy, D-Vt., and Mike Lee, R-Utah. The USA Liberty Act will have to compete against two other surveillance reform measures—one that would do more to rein in National Security Agency spying from surveillance critic Sen. Ron Wyden, D-Ore., and another that would do far less from Senate Intelligence Chairman Richard Burr, R-N.C. The bills would reform Section 702 of the Foreign Intelligence Surveillance Act, which will expire at the end of this year if it's not renewed.
Bills Push More Data, Open Data
The House Wednesday passed the Foundations of Evidence-Based Policymaking Act, and along with it, a version of the OPEN Government Data Act. Both bills push for making data more accessible; the former would require agencies to develop a system for using data to measure program success while the latter requires agencies to open non-sensitive data to the public.
Mobile Friendlier
The House Wednesday passed the Connected Government Act, which would mandate federal agencies ensure all new or redesigned websites are smartphones or tablet accessible. Rep. Robin Kelly, D-Ill., introduced the legislation while Sens. Maggie Hassan, D-N.H., and Cory Gardner, R-Colo., introduced companion legislation in the Senate in September.
The Biggie
The Senate passed the National Defense Authorization Act Thursday, sending the budget cap-busting $700 billion bill to the president's desk. The bill, which Congress still needs to figure out how to fund, gives military service members a 2.4 percent pay raise, and some lawmakers are pushing for a similar raise for federal employees.
The bill also included measures with broad implications for federal IT, such as the funds Modernizing Government Technology Act creates for agencies to upgrade outdated systems and a provision that puts some security clearance vetting back to the Defense Department's hands.
Another controversial provision, the Defense Acquisition Streamlining and Transparency Act or "Amazon amendment," will stand up e-commerce platforms for government shoppers to buy commercial goods like pens and pencils, but possibly more complex goods like smartphones.