Regulations aimed at derailing a Schedule F revival proposed by OPM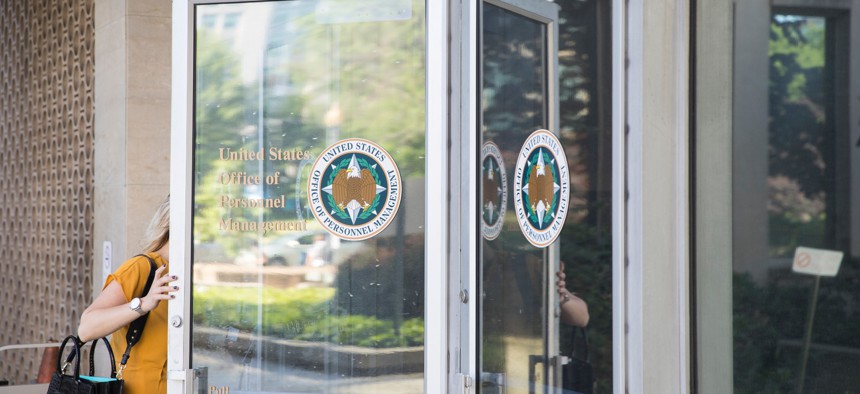 The Office of Personnel Management on Friday announced that it is proposing new regulations aimed at hamstringing future administrations from reviving a controversial plan to strip tens of thousands of federal workers of their civil service protections, potentially accelerating a long-simmering battle between good government groups and conservative Republican activists.
In October 2020, then-President Trump signed an executive order creating a new job category—Schedule F—within the federal government's excepted service for federal employees in policy-related jobs and exempting their positions from most civil service rules. The order instructed agencies to identify positions that would qualify for the new job classification and convert employees in those jobs to Schedule F, effectively making them at-will employees.
The Trump administration ultimately ran out of time to implement the order before the end of his term, and no positions were converted to Schedule F before President Biden rescinded it shortly after taking office in January 2021.
Though off the books, the initiative has continued to loom like a specter over the federal workforce, thanks to renewed efforts by former Trump administration staffers, who have spent the last two years preparing to immediately reinstate Schedule F upon the election of a Republican president.
Multiple Republican presidential candidates, particularly Trump, Florida Gov. Ron DeSantis and, most recently, Vivek Ramaswamy, have endorsed Schedule F or analogous plans to fire large portions of the federal workforce, while activists and conservative lawmakers have proposed making the entire civil service at-will employees.
OPM's newly proposed regulations, which will be published Monday in the Federal Register, seek to at least slow down a future administration from reviving Schedule F. It stipulates that when a federal employee's job is converted from the competitive service to the excepted service, the employee retains "the status and civil service protections they had already accrued," unless they voluntarily transfer into an excepted service position.
The proposal also establishes a narrow definition of "policy-related" jobs in the federal government, whittling it down to refer only to noncareer political appointments, and it grants federal workers the right to appeal any job reclassification that would result in the loss of civil service protections to the Merit Systems Protection Board.
"The proposed rule honors our 2.2 million career civil servants, helping to ensure they can carry out their duties without fear of political reprisal," said OPM Director Kiran Ahuja in a statement. "Career federal employees deliver critical services for Americans in every community. Prior attempts to needlessly politicize their work risked harming the American people."
Monday's filing also serves as the Biden administration's rebuttal to legal and historical arguments undergirding Schedule F and other efforts to convert federal workers into at-will employees, highlighting how removal protections evolved from the enactment of the Pendleton Act 140 years ago to the 1978 Civil Service Reform Act, with the support of a series of precedential court decisions.
"Through various enactments . . . Congress has created conditions under which certain employees may gain a property interest in continued employment," OPM wrote. "Congress has mandated that removal and the other actions described in [the U.S. Code] may be taken only 'for such cause as will promote the efficiency of the service. This property interest in continued employment has been a feature of the federal civil service since at least 1912, when the Lloyd-La Follette Act required just cause to remove a federal employee. The Supreme Court in Board of Regents of State Colleges v. Roth recognized that restrictions on loss of employment, such as tenure, can create a property right."
News of OPM's proposal elicited plaudits from congressional Democrats, who thus far have failed to pass legislation barring Schedule F's reinstatement, and federal employee unions, whose petition to OPM prompted the regulations.
"This isn't just about protecting our union members," said Doreen Greenwald, national president of the National Treasury Employees Union. "This is about making sure the American people are served by federal employees who were hired through an open, competitive process using criteria based on skills and expertise, not political affiliation. Our country depends on federal employees—like EPA scientists, FDA inspectors and IRS accountants—who take an oath to uphold the Constitution and are committed to the agency mission, not a politician."
"Every American benefits from having federal workers who are hired on the basis of their qualifications, not politics," said Sen. Tim Kaine, D-Va. "I'm glad to see the administration is taking action to safeguard our merit-based hiring system."
"We applaud President Biden's administration for taking concrete steps to protect the integrity of the civil service against those who seek to politicize routine government work and undermine our democracy," said American Federation of Government Employees National President Everett Kelley. "Whether these attacks take the form of Schedule F or other efforts to pack the executive branch with political flunkies, outlawing unions in the federal sector, illegally firing huge swaths of federal employees or eliminating agencies, the purpose is the same: to discredit government, diminish faith in our democracy, terrorize the federal workforce and inject politics into the routine day-to-day operations of government agencies."
But Don Kettl, professor emeritus at the University of Maryland and former dean of its School of Public Policy, said the regulations are unlikely to meaningfully constrain a Republican president from reviving Schedule F.
"At this point, they have 16 months to be able to prepare to have a draft of a new executive order or a new set of regulations that can be put in place pretty quickly," he said. "They don't need to do this on Jan. 20—if it takes two months, it's still a victory because they're in it for the long game, for sure. One big question is how much of a speed bump it would create for a Republican administration, and I think it's probably a speed bump, but not more than what you'd find in a parking lot."
What the regulations do succeed in doing is accelerate the long-simmering "existential" fight over the future of civil service. Kettl said the measure could serve to set up lawsuits against Schedule F under the Administrative Procedures Act—or to provoke a legal challenge from conservatives that could erupt amid the 2024 presidential race.
"The proposal directly challenges what it is Schedule F was seeking to do, given the fact that so many conservative organizations are rallying around the effort to reimpose it," he said. "It brings to a head in a sharp and powerful way a debate that was certain to happen anyway, but it speeds it up and puts it right in the middle of the presidential campaign. That's a very big deal."
OPM is soliciting comments on the proposed rule between now and Nov. 17.