Biden to nominate Shalanda Young as OMB director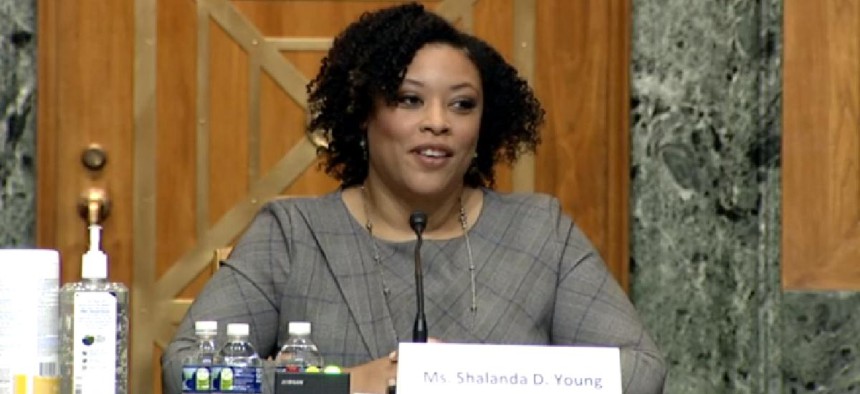 The Biden administration is looking to elevate the acting director of the Office of Management and Budget into the top job on a permanent basis.
Shalanda Young at her March 2021 confirmation hearing for the post of deputy director of the Office of Management and Budget
President Joe Biden has announced plans to nominate Shalanda Young to serve as director of the Office of Management and Budget (OMB) and Nani Coloretti as deputy director, potentially adding two historic appointments to his administration.
Young, who is the Senate-confirmed deputy director at OMB and currently serving as acting director of OMB, would become the first Black woman to fill the key post if confirmed, while Coloretti, currently a senior vice president for the policy research think tank Urban Institute, would be among the highest-ranking Asian Americans within the federal government.
In a video posted to YouTube on Wednesday announcing the upcoming nominations, the president said he was honored "to nominate two extraordinary, history-making women," adding: "Shalanda Young and Nani Coloretti are two of the most experienced, qualified people to lead OMB."
Young stepped into the role of acting director earlier this year after Biden's first choice for the job, Neera Tanden, withdrew her nomination amid disputes around her combative social media style.
The president noted in his announcement that both Young and Coloretti have been previously confirmed by the Senate "with broad, bipartisan support."
"In her eight months as acting director of OMB, she's continued to impress me and congressional leaders as well," Biden said about Young. "Shalanda will not only be a tremendously qualified director, she'll also be a historic director."
Young, who was previously confirmed by the Senate to serve as deputy director in a 63-37 vote in March, is a former staff director of the House Appropriations Committee, where she helped draft coronavirus relief legislation and oversaw the annual appropriations bill process.
Coloretti has also held various positions over the years, helping to establish the Consumer Financial Protection Bureau as its acting chief operations officer, and previously serving in multiple capacities at the Department of Housing and Urban Development and the Department of Treasury.