Telework is the new normal for Air Force Materiel Command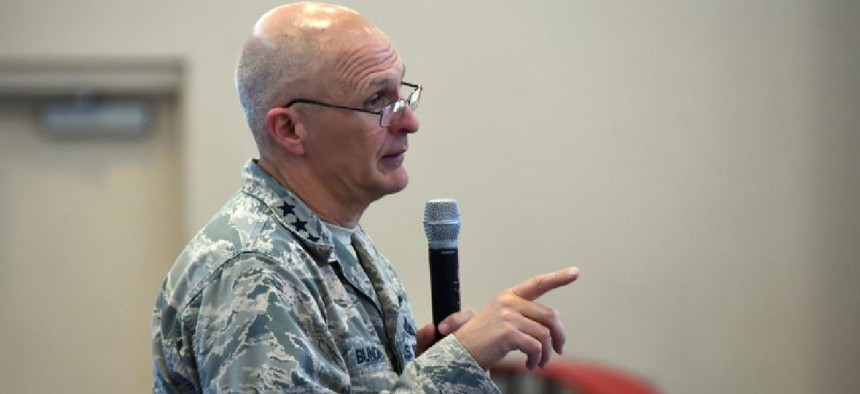 Lt. Gen. Arnold Bunch speaking at Los Angeles Air Force Base in 2017. (U.S. Air Force photo by Sarah Corrice)
Air Force Materiel Command is preparing to have half of its headquarters personnel working remotely at least some of the time, Commander Gen. Arnold Bunch said.
"We have a lot of people that wanted to telework, I had a lot of supervisors that didn't want to let people telework, and the message that I gave our leaders: we are not going back to what we were doing before," Bunch said. "We have demonstrated that we can execute the mission. We have demonstrated that we can award contracts, manage programs, get things done."
But there are some challenges that need to be addressed when it comes to culture. Bunch told reporters at the Air Force Association's Air, Space, and Cyber conference Sept. 21 that while the command is embracing telework flexibility wherever possible, there's a lag when it comes to culture.
"So we're embracing it, we're going to run with it," Bunch said. "I will say it is not without risk. The risk of that is to try to bring in new employees, and get them inculcated into the culture that we want [for] being an airman is more challenging in a virtual environment."
With virtual work, accountability is tied to opt-in functions like turning on the camera or being by a computer in general, which makes addressing non-compliance, such as not adhering to the dress code, "a little bit harder in this environment."
"It is hard to make sure they understand the mission threat, it's hard to check up on them all the time, it is hard to make sure their resiliency is good," Bunch said. "So those are some of the challenges our leaders are working their way through, but they're ones that we got to embrace and find a way to get after."
Part of the telework shift sparked by the COVID-19 pandemic is the use of what Bunch referred to as "hot desks" that personnel can schedule to use in facilities along with personal lockers to store things that would ordinarily stay at a workstation.
Bunch said embracing telework would help lessen facilities maintenance costs and attract and retain talent.
"We believe the younger generation ... We believe some of the younger generation really embrace it, but like the digital world, they're very comfortable operating in that kind of an arena. I believe if we don't go do this, we'll end up losing an airman in the long term," Bunch said.
"So I see it as a retention issue for the long term. I also see it as a way that we may be able to recruit and to address some of our diversity, equity, inclusion things to reach into areas that I have not been able to reach into yet."