There's a 'big disconnect' between users and developers of VA's new EHR, lawmaker says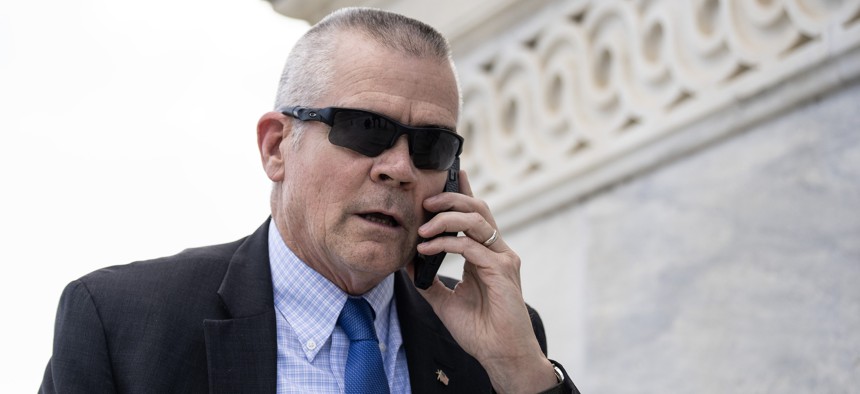 A 2023 survey of VA employees using the Oracle Cerner electronic health record system found that just 26% did not have issues with system availability.
House lawmakers voiced concerns on Wednesday about the apparent disconnect between the reported performance of the Department of Veterans Affairs' new electronic health record system and feedback from clinicians and other end users about their ability to use the multibillion dollar software, despite an ongoing pause on the program's rollout to address usability and technical issues. 
VA officials at a House Veterans' Affairs Subcommittee on Technology Modernization hearing were pressed by members from both sides of the aisle to explain why uptime problems still continue to plague the new Oracle Cerner EHR system, despite the department and Oracle touting a host of system improvements in recent months. 
Rep. Matt Rosendale, R-Mont. — the panel's chairman — said "there is a big disconnect here" when it comes to the software's reported performance metrics and users' on-the-ground experiences with the new system. 
In a slide presentation of VA, DOD and Oracle's "availability statistics" that was shared with Nextgov/FCW by a committee staffer and cited by Rosendale during the hearing, outage-free time under their respective controls was reported to be between 99% to 100% from September 2022 through September 2023. VA and DOD reported that "incident-free time" under their control during the same period was between 95% and 99%; Oracle, meanwhile, reported that incident-free time was between 87% and 97% during the same timeframe.
But a survey of over 1,800 VA employees conducted this year — and included in the slide presentation — found that only 26% of respondents agreed with the statement that "over the past two weeks, the EHR was available when I needed it, and downtime was not a problem." Meanwhile, 58% of surveyed employees said they disagreed or strongly disagreed with the statement. Compared to a similar 2022 survey, there was a 9% increase in the number of VA employees who reported being able to use the system when needed.
"Either by design or by accident, the criteria VA and Oracle are using are clearly not capturing all the system's problems," Rosendale said, noting that an audit of the department's help desk released by the Office of Inspector General in March 2022 identified deficiencies when it came to reporting, tracking and rectifying issues. 
"Service tickets aren't even being sent in anymore because there's been so many of them and they have frustrated the employees so severely," he added. 
Rep. Sheila Cherfilus-McCormick, D-Fla. — the subcommittee's ranking member — told the witnesses that the reported outage data "doesn't seem to match what we're hearing from front-line staff."
"The end users that we have heard from indicate that the system is frequently either slow or non-functional, and that other systems that interface with the EHR, such as [the joint longitudinal viewer], are even worse," she added. 
The rollout of VA's Oracle Cerner EHR system was paused in April to address technical issues, patient safety concerns and performance glitches that impeded the new software's broader rollout. Since first going live at the Mann-Grandstaff VA Medical Center in Spokane, Washington in 2020, the EHR system has been deployed at only five of VA's 171 medical centers.
VA officials signaled, however, that the ongoing program reset is helping to streamline issues with the system and voiced cautious optimism that the EHR system's deployment would resume at new facilities beginning in March 2024. 
Kurt DelBene — VA's assistant secretary for information and technology and chief information officer — said that, as of Nov. 8, there had been 185 consecutive days without a reported outage.
"To be sure, we're still experiencing partial system failures that impact end users," he said, but added that "this partially is from the number of changes that are being introduced."
VA and Oracle Cerner agreed to extend their existing contract for the new system in May, although the reworked agreement now includes more than two dozen performance metrics, such as uptime and help desk effectiveness.
DelBene said VA "has seen improvement to those metrics" following the contract extension, but admitted that "while our [incident-free time] metric has slightly improved from last year, it is not yet meeting the service level agreement of 95% IFT on a regular basis." 
"Ultimately, we anticipate that the system's performance will improve when the change velocity decreases and enough time has passed to enable unanticipated defects to be addressed," he added. "From a technical perspective, one of the advantages of the reset is providing time for optimization of the system and associated technical processes."
A representative for Oracle did not attend the hearing, but the company said in a statement for the record that "our contractual obligation since June 2023 is for Oracle-owned [outage-free time] to be 99.95 percent or higher per month" and noted that "for 12 of the last 13 months, Oracle-owned OFT has been at 100 percent."
Lawmakers conceded that systemwide crashes were indeed less of an issue, but said that problematic technical glitches still remained a significant concern for too many VA clinicians and facilities. 
"It is true that complete, nationwide outages have become less and less common over the past year," Rosendale said. "But crashes, hangs and errors that affect one facility, one module or one person are still widespread. Ultimately, what the users experience is what counts, and they are not happy."