GAO urges EPA to make a plan for its 'difficult' and 'outdated' air quality IT systems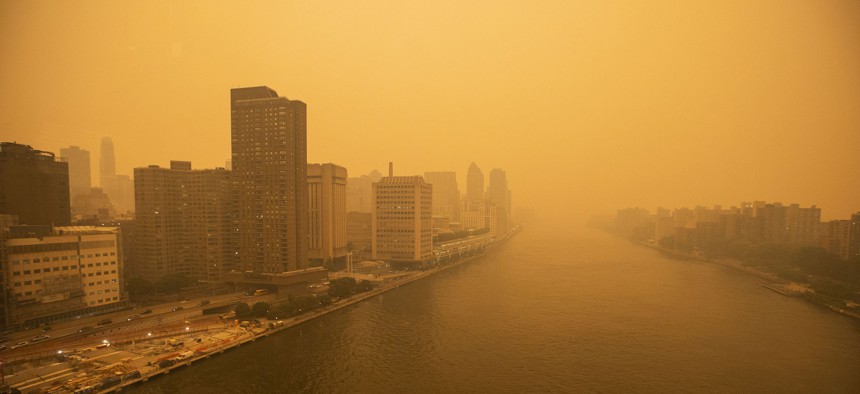 Two legacy information technology systems that govern the U.S. Environmental Protection Agency's monitoring of air pollution across the nation are due for modernization, according to the Government Accountability Office, which issued new recommendations for updates to the EPA's Air Quality System and AirNow services. 
AQS and AirNow, IT systems the EPA depends on to measure the air quality across hundreds of cities, jurisdictions and tribal territories, were both developed in the 1990s. Stakeholder and EPA personnel testimony outlined in GAO's report that was publicly released Friday suggested that the user experience of both systems is challenging, and upgrading the system with new capabilities is difficult. 
"Due to their age and design, AQS and AirNow can be difficult to maintain, access and use," the report read.
The ability to access data was a major problem GAO identified with both softwares. In the report, EPA officials noted that there have been several cases where both systems provide different results or "answers" for the same prompt in regards to air quality assurance standards. This discrepancy is largely due to data submitted to AirNow being later corrected to meet more extensive quality assurance checks for submission to AQS.
Although the EPA has intended to update its air quality monitoring systems, officials told GAO that competing priorities and funding delays have prevented the agency from solidifying a replacement contract. 
It also said that past requests to update AQS had not been approved, and funding that was allocated to the agency over the last 15 to 20 years was devoted, in part, to helping keep AQS sufficiently functional. 
GAO did note, however, that the EPA has yet to develop a business case for a new system. 
"Developing and documenting a business case for a new system could better position EPA to make decisions about whether to replace AQS and AirNow," the report summary said. 
GAO recommended that the assistant administrator of EPA's Office of Mission Support help identify if the EPA's IT systems are ready for an upgrade; that the agency's Office of Air and Radiation document an operational analysis of both systems; and that the Office of Air and Radiation assistant administrator create a through business case of how upgraded software would resolve current system challenges. 
In response to the report, the EPA's Office of Mission Support and Office of Air and Radiation agreed with the latter two recommendations, but disagreed with the GAO's first.
"The criteria/decision to replace or retire systems is delegated to the Senior Information Officials per CIO policy," the EPA's response letter said. "This approach provides EPA with an individualized method to meet individual mission area needs, balancing program autonomy and authority with overall EPA level guidance, structure and continuity for broader IT administration."