Asylum-Seekers Can Now Schedule Entry Appointments in Advance via CBP Mobile App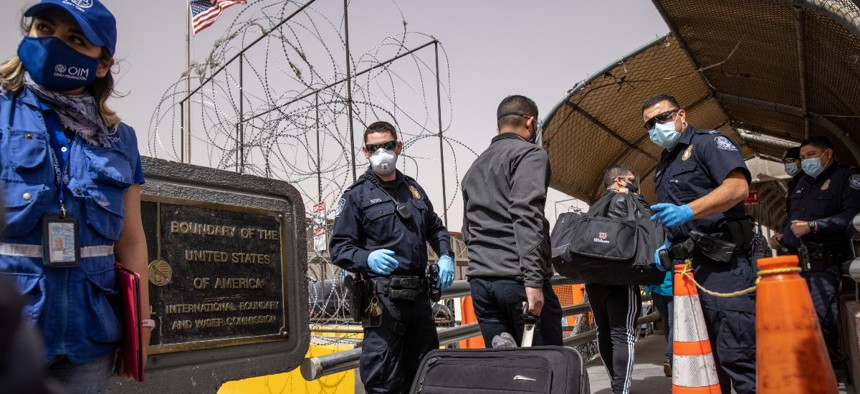 Customs and Border Protection's mobile application, launched in October 2020 to streamline access to customs services, now includes a function for migrants to schedule appointments at select U.S. ports of entry.
The Department of Homeland Security announced on Thursday that migrants located in central or northern Mexico who are hoping to enter the country through U.S. ports of entry can now schedule appointments through Customs and Border Protection's CBP One mobile application in advance. 
The CBP One app, launched in October 2020, was designed to help enhance access to a variety of customs programs and services amid the coronavirus pandemic. The app was released after the Centers for Disease Control and Prevention, under the Trump administration's directive, used Title 42 of the U.S. code in March 2020 to restrict asylum-seekers and other migrants from entering the U.S. during the pandemic. The Biden administration attempted to rescind the order, but the Supreme Court ruled in December 2022 that the White House must continue to enforce Title 42.
"At this time, due to court orders requiring DHS to continue implementing the CDC's Title 42 public health order, only noncitizens who can be considered for a humanitarian exception may use CBP One," DHS said in a press release. "Under this order, CBP is authorized to accept individuals on a case-by-case basis, based on the totality of circumstances, including considerations of humanitarian interests. Noncitizens utilizing CBP One must attest that they believe they meet certain identified vulnerability criteria and be prepared to substantiate this claim upon presentation at a [port of entry]."
According to DHS, asylum-seekers can now submit information through the CBP One app and schedule appointments as soon as Jan. 18. The app will help guide migrants through the scheduling process, which includes submitting "a live facial photograph" and other "advance information that an undocumented noncitizen would normally provide during their inspection at a port of entry."
The department noted that an appointment scheduled through the app does not necessarily guarantee migrants an exception from Title 42.
CBP said in a fact sheet that its app "streamlines the experience at the port of entry, may reduce wait times and permits a safe and orderly process at [ports of entry] for all travelers." The agency added that eight ports of entry—located in Texas, Arizona and California—are participating in the new scheduling process through the CBP One app. 
"The CBP One app is an innovative solution we are using to facilitate the safe and orderly arrival of noncitizens who believe they meet certain vulnerability criteria and are requesting a humanitarian exception to the CDC's Title 42 Order," DHS Secretary Alejandro Mayorkas said in a statement. "When Title 42 eventually lifts, this new feature will join one of the many tools and processes this administration is providing for individuals to seek protection in a safe, orderly and humane manner and to strengthen the security of our borders."
President Joe Biden announced the scheduling function on Jan. 5 as part of a series of new border enforcement measures. In remarks following Biden's announcement, Mayorkas underscored the safety goals of the CBP One app by saying, in part, that it "is designed to discourage individuals from congregating near the border and creating unsafe conditions."
The CBP One app's launch in late 2020 raised a host of concerns among officials and privacy advocates, given its status as a government-run data collection tool. A privacy impact assessment conducted by CBP in February 2021—which was later updated in October 2022—said that the app "does not store any information locally on the device," and that CBP "pushes all information collected through CBP One to back-end systems associated with the functions the user is using."
Human rights advocates have also raised similar privacy concerns about the app's use for asylum-seekers, particularly its reliance on facial recognition and geo-location technologies to identify and track migrants seeking to enter the United States.