Deploying Clean Energy Tech Depends on Cost Efficiency, Officials Say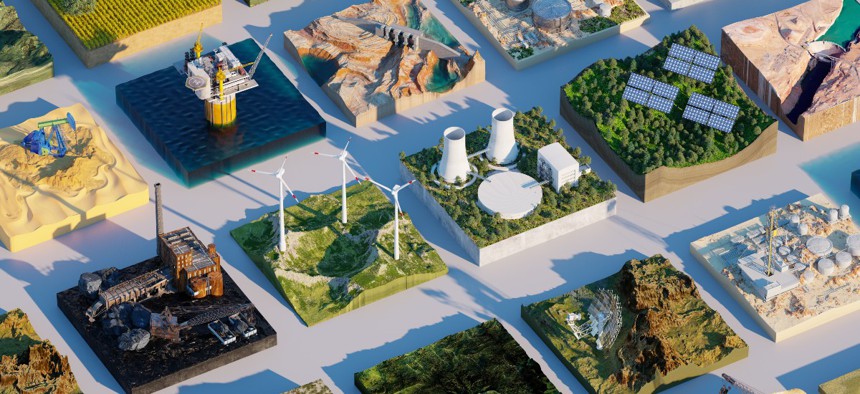 Leaders in the government's clean energy efforts discussed the priorities for building a clean energy economy.
Affordable pricing for clean energy technologies is the key to achieving a more sustainable and eventual net-zero emission economy by 2050, officials within the Biden administration said on Friday.
Speaking in a panel discussion hosted by Resources for the Future, four government leaders working within the clean energy technological development space identified some of the critical innovations required to deploy clean technology nationwide. 
The cost of new energy technologies, including new building and transportation design and systems, will determine how widespread the rollout can be.
"A lot of the work that we're doing around innovation is not just proving the technologies, but it's really commercializing them, getting them out the door," Julie Cerqueira, the principal deputy assistant secretary for International Affairs at Energy said. "And then really focused on bringing down the cost of those technologies."
Cerqueira said that some of the initiatives Energy is taking to support affordable clean energy tech include the Earthshot initiative to foster collaboration between academic, private, and public sectors––a key Biden administration initiative.
Leadership at the White House Office of Science and Technology Policy has a similar stance on developing clean energy technologies. Sally Benson, the office's deputy director for energy and chief strategist for the energy transition, said job creation and bringing down utility costs can help get clean energy technologies launched. 
Benson also added that fusion technology, a source of energy that could lead to U.S. energy independence, also has potential.  
"There's been really exciting developments in fusion over the last year, there's a lot of startup companies, there's a $5 billion of private sector investment, and they want to … get to that critical threshold where they can actually begin to imagine building power plants," she said. 
For Jennifer Gerbi, the acting director and deputy director for technology at Energy's Advanced Research Projects Agency, taking risks is crucial to developing more advanced clean tech. 
"Somebody needs to have the freedom to come up with the new things, the new technologies that are not yet on the roadmap. To be able to do that requires a specific kind of agency with a certain amount of freedom and flexibility," Gerbi said. "And we constantly ask ourselves, 'are we doing something that other people can't do?' 'And why?' 'What would this look like if it were successful? How can it have an impact?'"