NOAA Looks to Transition Ground-Based Radio Processing to the Cloud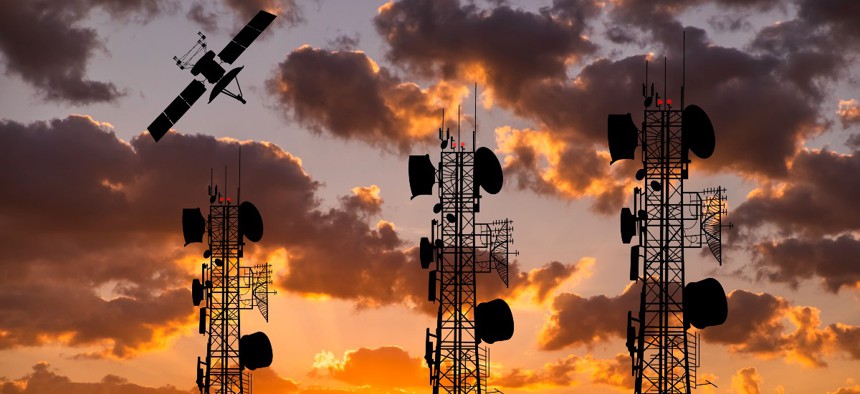 The agency plans to offer industry and academia the chance to demonstrate how cloud solutions could enable their radio processing objectives.
The National Oceanic and Atmospheric Administration issued a special notice on Wednesday to examine its options to "transition from hardware-based ground radio processing to cloud-based software applications."
The special notice was issued in advance of a broad agency announcement about this endeavor. NOAA seeks to examine the potential for cloud to enable a digitization of its radio frequencies, via devices in which the traditionally analog hardware, such as filters or amplifiers, is instead accomplished through software. This format, in combination with more front-end processing capabilities, would support telemetry processing—the reading and transmission of data from a remote source—for the agency's satellite programs. NOAA's satellites include its geostationary, polar orbiting and deep space satellites.
As a result, NOAA and the National Environmental Satellite, Data and Information Service will request demonstrations to help determine the feasibility of using commercial capabilities to expand the NESDIS Common Cloud Framework, where appropriate, and identify the use of cloud-based core digital ground capabilities necessary to support space-to-ground communications in the near future "as an area that warrants further exploration." 
NOAA anticipates using the results to better understand its options as it looks to transition to a common service-based enterprise ground architecture. 
NOAA expects to post the broad agency announcement within the next six weeks, which will ask for proposal submissions for the demonstrations and studies. The submissions are open to all industry and academia. 
According to NOAA's website as of Oct. 2020, NESDIS is working toward its cloud migration by taking an enterprise adoption approach. The agency stated that the NESDIS Common Cloud Framework is a critical component for the component's digital transformation. The framework is designed to securely ingest data and generate operational products. 
In 2020, NOAA released its cloud and data strategies to help it expand emerging science and technology. For example, its cloud strategy calls for rapid adoption of cloud services, smart migration to the cloud, ensuring secure and broad access to cloud services, giving effective governance for cloud shared services and making sure the workforce is cloud-ready.