Federal CIO tees up 7 new TMF awards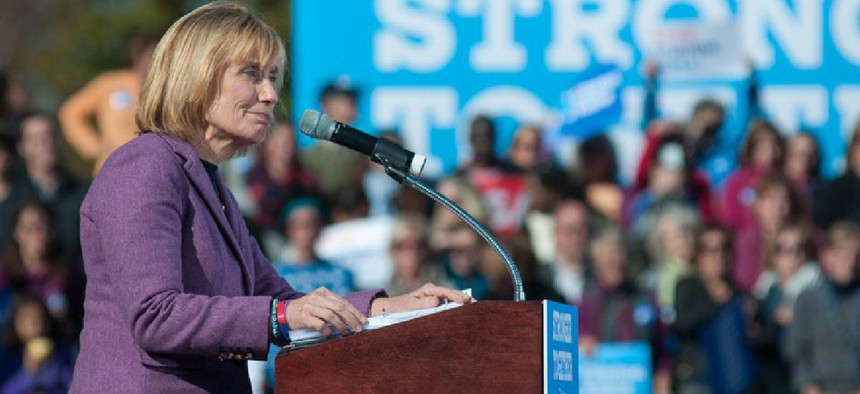 Sen. Maggie Hassan (D-N.H.), shown here at a 2016 rally, convened a subcommittee hearing on Tuesday to talk IT modernization. (Image credit: Andrew Cline/Shutterstock.com)
Federal CIO Clare Martorana told a Senate panel on Tuesday that seven new Technology Modernization Fund awards have been chosen and are currently under review in Congress. 
These seven awards, which have not been publicly announced, are the first to be made via the fund since it received a $1 billion infusion via the American Rescue Plan Act. The advance congressional notification of the TMF awards is a courtesy that precedes their public announcement.
"We are picking projects that not only have the greatest chance of success, but that we can also build playbooks off of so that we can repeat," Martorana said at a Sept. 28 hearing of the Subcommittee on Emerging Threats and Spending Oversight of the Senate Homeland Security and Government Affairs Committee.
As has been previewed by Martorana and other TMF board members, cybersecurity improvements are front and center in new funding. The board received proposals from 48 different agencies and agency components with requests totaling around $2.3 billion, Martorana said, with about two-thirds of proposals focusing on cybersecurity.
"We really are trying to be strategic investors working with our agency partners, making sure that we're evaluating these programs, obviously for the greatest risk that they potentially have to the federal enterprise, but also we're looking at the highest probability of success, the highest value to the public ... and the highest impact to security outcomes," she said.
Sen. Maggie Hassan (D-N.H.), the chair of the subcommittee, noted at the hearing that the Modernizing Government Technology Act that authorized the TMF also gave agencies the authority to set up their own individual working capital funds to support multiyear IT modernization projects, but it required congressional approval for actual transfers of money into such funds, "which leaves these critical funding mechanisms unavailable to most agencies." Since the law passed in 2017, only the Small Business Administration has been able to put money into an agency-based working capital fund, she said.
Martorana said the administration is "supportive of legislative fixes that would help agencies use these innovative funding models, including working capital funds."
Martorana, who testified alongside U.S. Digital Service Administrator Mina Hsiang and Technology Transformation Services Director V. David Zvenyach, also put down a marker on what is and what isn't a legacy system.
"It's important to note that not all old systems are legacy, and old doesn't always mean bad, antiquated, risky, or in need of retirement," Martorana said in her opening statement. "The legacy technology I am most concerned with are systems that are out of support -- can't be patched, have availability issues or can't meet user needs or policy goals, systems whose security cannot keep pace with our adversaries. With a secure system, even when deemed legacy, we can still deliver modern customer experiences to the public."
Martorana also pointed out that intense demands placed on systems, even some of the oldest IT systems in government such as those at IRS and Treasury, can mean deferring modernization.
"Some of those foundational items at Treasury went through reprogramming for the Affordable Care Act. Then they went through just recently reprogramming for [the Paycheck Protection Program] or other COVID relief…. So [with ] some of those systems, we are prioritizing operational need versus long term modernization opportunities," she said.