Space Command moves for tighter cyber integration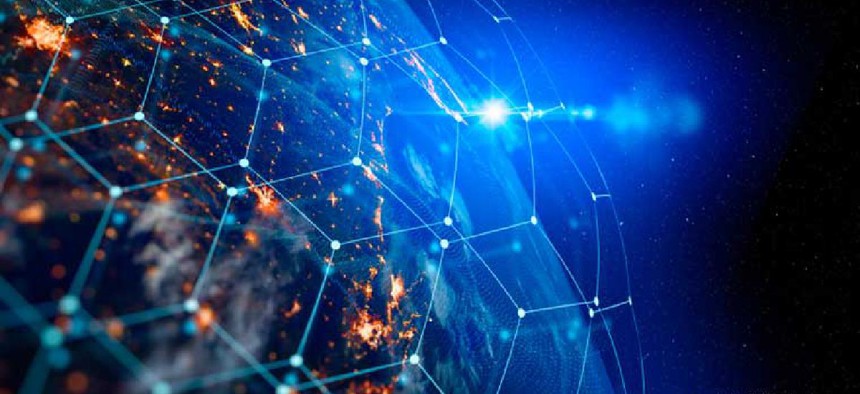 U.S. Space Command is launching a dedicated joint cyber center for better integration with U.S. Cyber Command, said its commander Gen. James Dickinson.
"We are standing up a joint cyber center within the command as we speak," the general testified during a Senate Armed Services Committee hearing with the U.S. Strategic Command and Space Command to review the fiscal 2022 budget request and Future Years Defense program.
"I also have, as a result of the command standing up, I've got five service components provided by each of the services to the combatant command with two of those -- my Navy component as well as my Marines component -- who are dual hatted," for space and cyber.
There's been an increased focus on the need for cybersecurity and resilience when it comes to space capabilities. The Space Force began onboarding cybersecurity specialists in February to combat threats to space assets.
"We must capitalize on machine learning and artificial intelligence developments to secure our systems, advance our capabilities, and increase the speed of our decision-making process," Dickinson wrote in prepared testimony, adding that the command must "evolve cyber operations for an agile and resilient posture, and invest in game-changing technologies."
Dickinson said Space Command, at least for now, has the resources and staffing it needs for cyber, including representation from each service, some of whom are dual experts in space and cyber. But that need may grow in future years.
"Future years will require additional resources to accomplish all of this, and to ensure the U.S. can adequately address the evolving and expanding cyber threats posed by our strategic competitors and adversaries," Dickinson wrote.
But when it comes to cross training in cyber, space operators may need to do more to keep pace with cyber threats to Space Command's IT systems.
David McKeown, senior information security officer and DOD's deputy CIO for cybersecurity, told lawmakers April 14 that space systems and cybersecurity principles will become increasingly intertwined, particularly as the department embraces zero trust principles.
"These principles that we're employing here can be transferred to any platform, any IT platform that you may think of. So in terms of space systems, which are heavily reliant on IT, we can definitely employ these same pillars of zero trust and employ the same architecture," McKeown told the Senate Armed Services Subcommittee on Cyber April 14.
McKeown said space personnel should be trained with existing IT technicians, "rounding out their capabilities and working with their architects as well so that they understand the principles of zero trust so that when they design a new system, they build it in."