CIA Awards Secret Multibillion-Dollar Cloud Contract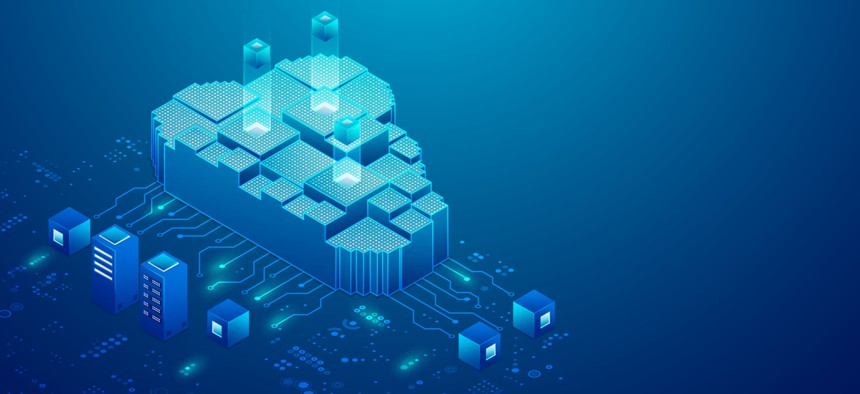 The agency has awarded a contract to bring foundational cloud services from multiple cloud service providers into the intelligence community.
The Central Intelligence Agency has awarded its long-awaited Commercial Cloud Enterprise, or C2E, contract to five companies—Amazon Web Services, Microsoft, Google, Oracle and IBM.
Under the C2E contract vehicle, the companies will compete for specific task orders issued by the CIA on behalf of itself and the 16 other agencies that comprise the intelligence community. The CIA did not disclose the expected value of the contract to Nextgov, but procurement documents issued by the agency in 2019 indicated it could be worth "tens of billions" of dollars over the next decade and a half. 
"We are excited to work with the multiple industry partners awarded the Intelligence Community (IC) Commercial Cloud Enterprise (C2E) Cloud Service Provider (CSP) contract and look forward to utilizing, alongside our IC colleagues, the expanded cloud capabilities resulting from this diversified partnership," CIA spokeswoman Nicole de Haay told Nextgov Friday. 
C2E represents the CIA's next step in cloud computing, having awarded an existing contract—dubbed C2S—to Amazon Web Services in 2013 to provide a variety of cloud computing services for the CIA and intelligence agencies, including the National Security Agency and FBI. 
This time around, the CIA opted to award multiple cloud service providers a spot on the contract to compete for specific task orders at various classification levels of up to top secret. Through the multiple-award indefinite-delivery, indefinite-quantity C2E contract, the CIA seeks foundational cloud services, including infrastructure-, platform- and software-as-a-service capabilities, as well as professional services. 
This multi-award approach opened the doors for other cloud service providers —like Google, Microsoft, Oracle and IBM—to join AWS in serving intelligence agencies. AWS, however—which holds the C2S contract through 2023—remains the only cloud service provider to provide cloud capabilities for workloads at all classification levels, including those classified as top secret. Microsoft is the competitor closest to attaining authorization to host top-secret data. 
"We are honored to continue to support the intelligence community as they expand their transformational use of cloud computing. Together, we're building innovative solutions across all classification levels that deliver operational excellence and allow for missions to be performed faster and more securely," an AWS Spokesperson told Nextgov in a statement. 
"We appreciate that the government has chosen Microsoft and are eager to serve as an integral partner in supporting its overall mission," a Microsoft spokesperson told Nextgov in a statement. "We look forward to providing the intelligence community our latest unique and differentiated Azure cloud and productivity capabilities."
"IBM is proud to further its collaboration with the U.S. federal government with this strategic award to provide the U.S. Intelligence Community (IC) with IBM's hybrid cloud flexibility and sophisticated security features to support mission-critical workloads," Jay Bellisimo, IBM's General Manager, U.S. Public and Federal Market, told Nextgov in a statement. "Our position as a commercial enterprise open hybrid-cloud global leader has sharpened our expertise to help our clients seamlessly move to a multi-cloud ecosystem in compliance with cloud security standards. We look forward to putting our knowledge into the service of the IC and their key national security partners." 
"Oracle is privileged to continue and expand its support of the U.S. Intelligence Community and pleased to be trusted as an enterprise Cloud Service Provider to the U.S. Intelligence Community," an Oracle spokesperson said in a statement.
"We're proud to have been named a vendor for the Commercial Cloud Enterprise contract (C2E). C2E is multi-cloud, ensuring that agencies aren't locked into any single vendor—and are able to ensure capacity, redundancy, and best-of-breed cloud solutions," a Google spokesperson said in a statement to Nextgov. "We remain committed to serving public sector organizations of all sizes, and this award builds on recent federal momentum for Google Cloud with NOAA, the U.S. Department of Energy, Defense Innovation Unit, U.S. Navy, U.S. Patent and Trademark Office, U.S. Small Business Administration, and more." 
The contract and accompanying procurement documents have not been released to the public. 
The CIA also aims to award a "cloud integrator" to provide various integration support and cloud management tools but has not made that award yet. That piece of the contract targets traditional systems integrators.
The CIA's C2E is one of many multibillion-dollar cloud contracts the federal government has released in recent years. The CIA's approach will allow multiple companies to bid on specific task orders, differing from the Pentagon's recent large cloud acquisitions, which officials designed to award to a single company. Two of those single-award defense procurements, the Defense Enterprise Office Solutions and Joint Enterprise Defense Infrastructure, faced years-long delays. JEDI remains tied up in litigation as AWS challenges the Defense Department's selection of Microsoft while DEOS was awarded for a third time in October. 
Editor's note: This story was updated to include comments from cloud service providers.