Report: Agencies Must Adapt Services More Quickly to Meet Customer Demands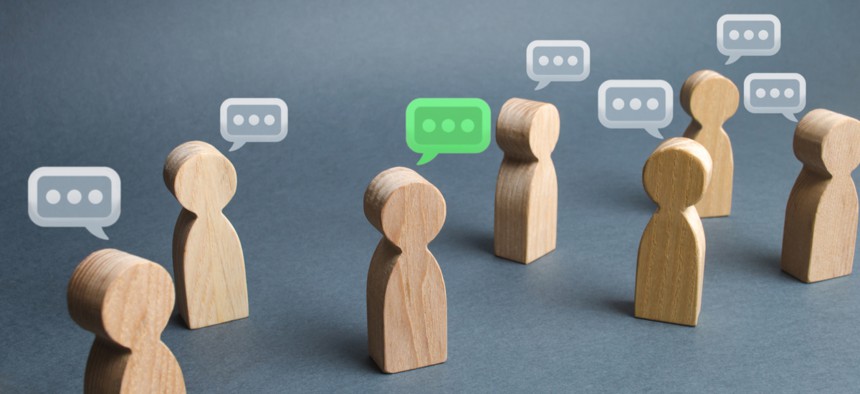 The government's response to the COVID-19 pandemic suggests it should continue being agile in its approach to service delivery.
Americans are using federal services at historically high rates, and their expectations for customer experience—buoyed by their experiences with commercial service delivery—have never been higher, according to a report released Tuesday.
The Government For the People: Serving the Public in a New World report, authored by the Partnership for Public Service and Accenture Federal Services, reviews a stockpile of data regarding government service delivery of the past decade and makes a slew of recommendations to the administration, Congress and agencies. It closely examines 11 of the highest-volume federal services, including airport security screening, passport services, taxpayer services and federal student aid services.
The report also addresses how the COVID-19 pandemic has forced agencies—and their employees and contracted personnel—to deliver services in different ways and argues that government shouldn't go back to business as usual if and when the pandemic subsides.
"Meeting customers' needs during the coronavirus pandemic and beyond has required government agencies to change how they work—and, in some cases, accelerate adoption of new ways of delivering services that have met resistance in the past," the report states. "The good news is that many agencies rose to this challenge and continue to do so. They have come up with innovative ways to deliver services and responded to changing customer needs and expectations. These enhancements need to be embraced more widely across government."
Government services took on increased import in the last decade, even before COVID-19. Since 2009, the report suggests a 33% increase in the number of Americans using Medicare; a 28% increase in the number of passengers screened at airports; a 32% increase in the number of U.S. passport applications and a 22% increase in the number of patients under medical care at the Department of Veterans Affairs.
The report, released in advance of an event organized by Partnership for Public Service, provides three service delivery principles on which agencies can build a framework for advancing customer experience:
Agencies must understand and address customers' changing needs far more quickly than they have in the past.
Employees must be able to deliver services from anywhere to anywhere.
Agencies need to offer digital self-service options for more complex interactions, not just for simple transactions.
The report found agencies made overall improvements in customer experience and in addressing customer feedback in the past year. Further, the report argues that customer experience "should remain a centerpiece of the President's Management Agenda." However, it offers agencies a few best practices to better meet customer needs, including: setting key performance measures based on customer feedback; assigning a senior executive to lead on customer experience; collecting, analyzing and sharing customer feedback publicly; providing support and answering questions on social media; focusing on the experience of people who help others navigate federal services and managing customer experience as an enterprisewide effort.