How Peer-to-Peer Texting Could Play a Role in Disaster and Pandemic Response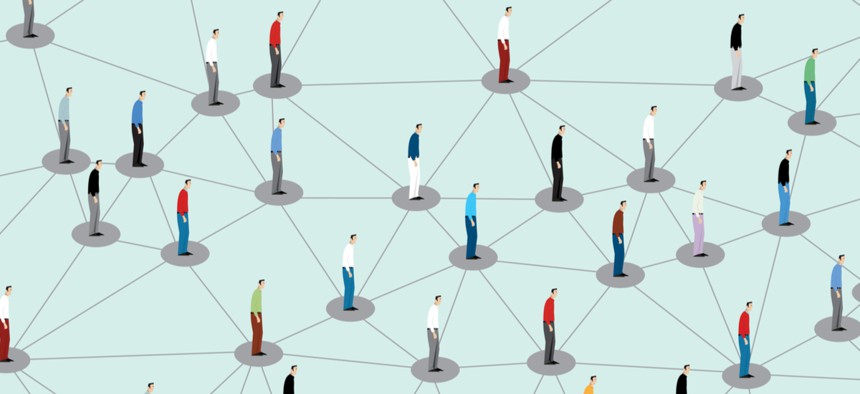 RumbleUp, an app previously tapped by Republican campaigns, is now available through FirstNet.
As America fights a global pandemic and braces for what could be an alarmingly active hurricane season, public safety agencies looking to modernize response efforts have a new option to participate in personal, two-way conversations directly with each other and with those they serve—via text message.
RumbleUp, a peer-to-peer texting app that's made notable waves for political and advocacy campaigns in recent years, was accepted into the FirstNet App Catalog, a dedicated library of secure applications that can be used by more than 12,000 public safety agencies. The addition could enable first responders to directly text people on the ground in support of COVID-19 testing and contact tracing efforts, as a lifeline during hurricanes, and other natural disasters or unexpected events and much more.
"A client can sign up and be texting within 15 minutes. One volunteer can send 10,000 text messages per hour, and have about 500 conversations back-and-forth per hour," RumbleUp CEO Thomas Peters recently told Nextgov. "And every time they send a message that triggers a data tag, so it's basically creating a real-time dataset for the client, and that's extremely valuable."
Peters and a senior FirstNet official reflected on what sparked RumbleUp's inclusion in the catalog and what the future of rapid response through not automated—but human-to-human texting—holds.
Pioneering Peer-to-Peer 
Peer-to-peer, or P2P, texting emerged as a powerful tool in the political scene in 2015, when presidential hopeful Bernie Sanders' team partnered with P2P-company Hustle to directly engage and recruit supporters via text. From there, "it quickly kind of caught on both sides of the aisle," Peters explained, noting that RumbleUp was the first company leaning "center-right" to join the mix. P2P options on the political landscape have continued to surface, and help candidates and grassroots advocacy campaigns make their mark. Though the services cannot reach communities and individuals who lack access to personal devices, texts generated through leading P2P apps are opened roughly between 70% and 98% of the time—and in up to 50% of cases, readers respond. In emergencies when hotlines and call centers are overwhelmed, P2Ps proponents believe more can be managed through texting.
"The innovation is basically that every text message is sent by a real human being one by one," Peters explained. "So it's not an auto-dialer or a blast text platform."
Regulations around the nascent communications are increasingly evolving, but Peters' distinction is notable. The Federal Communications Commission and Telephone Consumer Protection Act of 1991, which govern the activities, prohibit using auto-dialers on those who have not opted into being contacted. But because P2P texts are sent human-to-human, opt-in consent is not required. Some have called for the regulatory statute to be revamped, as the regulatory framework crafted in 1991 understandably does not account for smartphones.
To use the service, clients provide the humans—staffers, volunteers or individuals outsourced from other entities—to conduct and manage communications. In his own experience working with volunteers during a previous campaign to rally voters, Peters saw a conversation through which one used the platform to pose the question: "Do you plan to go vote today?"
"The person [replied], 'I haven't missed voting in 26 years, but my dad passed away today, and I just don't know.' And the volunteer responds 'I'm so sorry to hear that. I'll say a prayer for you both.' And the person responded, 'Thanks. I'm going to go try to vote.'" Peters explained. "I mean—that's how raw it is." 
Though RumbleUp has generally supported more conservative candidates, Peters said the app conducts a great deal of non-partisan surveys and polling—and is impartial in its disaster response and FirstNet-driven work. 
The spark behind the company's work to join the FirstNet application catalog first bloomed in 2018, when, according to Peters, RumbleUp "really got to appreciate the power of peer-to-peer texting in a disaster situation." Hurricane Michael decimated the Florida panhandle that year and the company swiftly teamed up with a political party within the state, the Florida GOP, to text more than 70,000 numbers belonging to folks who were displaced in the aftermath. Volunteers shared FEMA hotlines and shelter directories, and connected those they texted with other local, state and federal resources. Working directly for a political party, volunteers using RumbleUp also asked Floridians if they needed assistance filling out absentee ballots or locating temporary voting points, as normal poll stations had been destroyed.
"We were able to raise voter participation by over 10%, [measuring] that group of people they texted with, versus a control group—and so we captured the objective that the client wanted," Peters explained. "But when reading through all the conversations, we found so many people who said that this is the first time anyone had reached out to them. There are so many people that are just falling through the cracks."
Beyond that point, the company began talks with FirstNet about it's potential to improve public safety agencies' communications reach amid response—and when COVID-19 hit, its application was fast-tracked.
An Opportunity for Agencies via FirstNet
Authorized by Congress in 2012, FirstNet is an independent authority within the Commerce Department that aims to build and operate a nationwide, broadband network specifically for first responders. In 2016, telecommunications giant AT&T bid and was subsequently selected to work in public-private partnership with the First Responder Network Authority to design and launch the wireless communications platform solely to promote public safety.
Scott Agnew, assistant vice president of product marketing for the FirstNet Program at AT&T, told Nextgov via email Monday that FirstNet incorporates a physically separate network core that encrypts public safety's sensitive communications, an LTE radio access network that prioritizes public safety communications and gives public safety dedicated access when they need it, and an ecosystem of "relevant, cutting-edge apps, devices and solutions," that support responders situational awareness and capabilities. 
Launched in September 2017, the FirstNet app catalog encompasses more than 100 products that have been scrutinized and screened for security and privacy, and ultimately approved for use by public safety agencies. The apps span a wide-range of needs, and include dispatch functions, internet of things, drone and body-worn camera solutions, emergency medical and telehealth capabilities, as well as those for digital evidence collection and management—and others.
"The FirstNet App Catalog has several peer-to-peer texting apps—or interactive mass texting apps that allow organizations to quickly engage with any size audience via SMS or MMS—each with its own unique use-case to serve. RumbleUp provides a scalable human-powered, two-way texting platform," Agnew noted, adding that he believes "many public safety agencies and their communities can derive significant benefits" by adopting the application. 
Detailing the options, he said agencies and government officials can access the app to communicate alerts, road-closures and instructions during planned events and incidents and safety officers can harness RumbleUp to communicate with students, teachers and parents during unforeseen occurrences. RumbleUp's Peters also highlighted that the app holds potentials for community leaders to communicate information about social-distancing measures and phased updates amid the COVID-19 pandemic or even send messages that support contact tracing, which could help those who've encountered someone with the virus to access a nearby testing facilities. Many states are now using live-calling when it comes to contact tracing, Peters said, but he believes that if they switched to the company's tool, he estimates they'd "contact about 50 times more people and build data faster." 
As the novel coronavirus crisis was unfolding alongside special elections in Pennsylvania, Peters said RumbleUp enabled the state's Republicans to text people links directly to the State Board of Elections, explaining what health safety protocols were being put in place to ensure as safe a voting experience as possible. People were encouraged to respond with questions—and many did, according to the CEO. It can also be used to enhance interagency communication during the global pandemic. "If you are running one of many COVID testing sites, and you're running low, being able to text with other hospitals, et cetera, to get those resources on hand—connecting and talking to each other on the backend—that's the kind of communication we can use," Peters said. "Even though texting is very simple ... the way that we do it is extremely powerful because it's the most visible channel, so that's what FirstNet really bought into."
Public safety agencies will also find value in RumbleUp as they endure and provide support in the aftermath of hurricanes, tornadoes and natural disasters, Agnew noted, reiterating its use in the aftermath of Hurricane Michael as it underpinned the connections between displaced people and the aid that they needed. 
"Lessons-learned from that experience can help public safety agencies and communities across the nation. People tend to ignore robocalls, many people never check their voicemail, and [one-way] texts do not help people with simple, or urgent, questions—but the human-powered interactive texting solution offered by RumbleUp broke through those barriers and reached out to people who were otherwise disconnected from help," Agnew said. 
It was a rigorous process to be approved and accepted into the FirstNet catalog, RumbleUp already had robust measures in place to secure the platform and sensitive data it captures, so no further changes needed to be included. Though the information can sometimes be sensitive for volunteers engaging, he noted that RumbleUp employs active content filters across the millions of conversations it underpins. Now that the capability is available directly through the FirstNet app catalog, Peters is embarking on a "whirlwind tour" speaking to agencies and stakeholders that can tap into the application via FirstNet and procure the capabilities. 
"Each client would come in and create their own separate account and then we can help provide them with high-quality cellphone data from national data sources," Peters said, noting that the company follows rules set by the FCC in doing so. 
Peters has been building websites and web-based services for years and considers himself a technologist. He's woven technical and digital resources and tools into all that he's done, but the emphasis RumbleUp places on empowering human connection through devices was also driven by his own, deeply personal experience.
"I personally realized the importance of smartphones after I had a diving accident in 2013, as a result of which I'm in a wheelchair, and as a result of which I founded this company—so you know, there's definitely a big silver lining," Peters explained. "When I got my cellphone back after being in the [intensive care unit] for 12 weeks, it was the first time that my life kind of restarted, because my professional and social life became my own again. ... So when I came to politics, I was like, 'Smartphones are the absolute, essential way.'"