VA to Launch Adaptive Game Therapy Program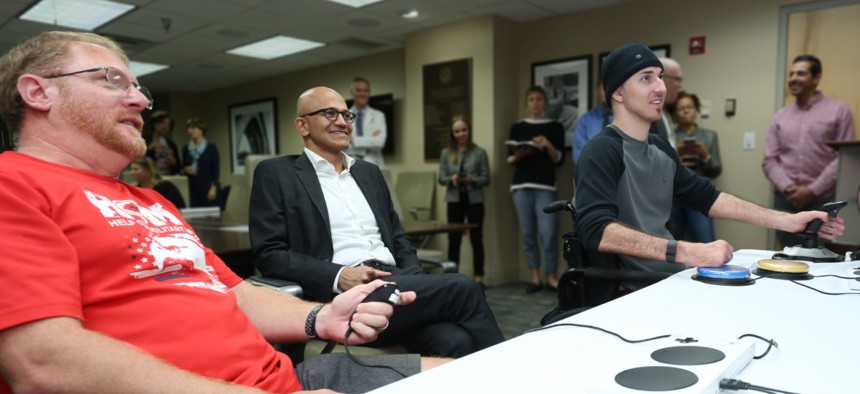 The agency also announced it will introduce adaptive esports into its national game competition during a visit with Microsoft CEO Satya Nadella.
After introducing Microsoft's adaptive video game controllers to clinics across America earlier this year, the Veterans Affairs Department announced it will soon launch an outpatient program in Washington D.C. to connect, support and rehabilitate veterans with limited mobility through esports and gaming.
"One of the things we found is that that sense of belonging, or lack of belonging, when soldiers and sailors and airmen come out of the military, they lose that sense of comradery. We think that's one of the indicators that if we could fix that, we can maybe move the needle on suicides," the Veterans Health Administration's Chief of Staff Lawrence "Larry" Connell, told Nextgov during a meeting with the tech giant's CEO at the VA Medical Center in D.C. "It really is inspirational on what adaptive devices can do for our veterans—whether it's the Xbox controller or adaptive skis—it makes a difference in these veterans' lives."
The agency announced in May that Microsoft donated 170 of its first-of-a-kind video game controllers specifically designed for and in consultation with people with limited mobility, as well as other gaming equipment to 22 VA facilities across the nation. The uniquely designed controllers offer big buttons, foot pedals and the opportunity for users to adjust the equipment in many ways to specifically meet their direct mobility needs. And the ultimate goal of the collaboration is twofold: Veterans who participate can opt to provide Microsoft with feedback on the adaptive controllers while also enjoying improved access to video games as a form of therapy and rehabilitation. 
During the meeting, Microsoft CEO Satya Nadella said realizing that nearly a quarter of people who are playing video games have some form of immobility has incentivized his team to embrace a universal design approach to bring the adaptive technology to the mainstream market. 
"A way at least we are trying to articulate this for ourselves is to say everyone will need help at some point in terms of assistive technology, so what if we really took that to the heart of inclusive design and built all of our products—whether it's Windows, whether its Xbox, or Office—with that spirit, that design ethos," Nadella told Nextgov. "And then I think we will, in fact, have a better business. So I think that is the real motivation." 
During the event, Nadella played video games using the adaptive controllers with two veterans who plan to soon participate in the D.C. VA's new gaming outpatient program. Nadella first heard from Matthew Wade, who grew up as a passionate gamer and was enlisted in the Navy as a master at arms. During his service, Wade suffered from a severe cervical spine injury and became quadriplegic. Wade said he now primarily turns to esports and gaming has a distraction from chronic pain he suffers from. 
"I have nerve-ending pain in the lower part of my body and it just feels like my legs are on fire," Wade said. "But when I am totally distracted or immersed in a game, that pain seems to go away."
Wade also played games with his service comrades throughout his military duty, and once he returned home, his brothers worked to get him playing again, mostly in an effort to help with his mood. He now has difficulty gripping mainstream game controllers with his fingers, so when gaming at home, Wade uses a sort of makeshift table that extends up and props the controller on his lap. But he recognizes that Microsoft's adaptive controller could offer him a more comfortable gaming experience. 
"It's definitely something I'm interested in—to be able to have something easier to use, something I don't have to struggle to get set up for," Wade said. 
Roger Brannon served almost three decades in the Marine Corps, both in active duty and in the reserves. In 2016, he was diagnosed with amyotrophic lateral sclerosis, commonly known as ALS or Lou Gehrig's disease. ALS is a neurodegenerative disease that Brannon noted veterans are twice as likely to become diagnosed with. He said over time he expects his muscles to shut down to a point where he'll only have the use of his eyes.
"I'm three and a half years into my sentence and plan on fighting it for the rest of my life," Brannon said. 
The former Marine grew up gaming "as an Atari kid." Though he stopped playing as an adult, Brannon is particularly excited to use the assistive controllers to play video games with his son, which has recently proven difficult on mainstream controllers, due to the limited mobility he has in his hands once moving them for prolonged periods of time. Brannon learned about the adaptive controllers when he was working with VA to gain access to an adaptive bike.
"From there I was like, 'I'd like to do that to play with my son because right now I can last 15 minutes with the joystick in my hand, but with the adaptives, I should be able to play a lot longer,'" he said.
Both Brannon and Wade plan to participate in the outpatient program, which will be led by Colleen Virzi, VA's recreational therapist charged with coordinating all the adaptive sports therapies in D.C's medical center. She's currently reaching out to other clinicians across the region, including occupational therapists, physical therapists and other support groups to get referrals of veterans to join the program. From there, she'll host two-hour clinics where former military personnel will be fitted for their controllers to specifically meet their needs and then compete against each other each week.
"Really, it's a unique piece of equipment, because no matter what type of disability you have, you can adjust it to work for you. So it's fine motor skills, psychologically it's great to get people back into that competitive spirit, and also socialization, which is what I'm most excited about," Virzi said. 
The veterans were also excited to hear that—for the first time ever—during the 40th annual national wheelchair games, they will have an opportunity to compete in a competitive esports track. VA's Director of National Veteran Sports Programs Leif Nelson said the inclusion of the new event was born out of the agency's collaborative partnership with Microsoft. 
"We became aware of it and with all the interest we've gotten from veterans across the country, it's really a logical fit for our national rehabilitation events," Nelson said. 
Nelson joked that they are still in the "buzz" and "rumor mill" stage regarding what video games the veterans will compete in, but as of now it'll likely be either Forza, Rocket League or Madden. 
And for Nadella, it's a collaboration that really hits close to home. During the conversation, he noted that his own son is quadriplegic and that this aligns with his own personal mission to help every person on the planet, no matter their state of mobility, be able to achieve more. 
"Even for me this morning to come here, to meet the two veterans and to see the sense of empowerment they feel when they are using this new controller, and the ability and the stories they tell about how they play with their brother, their children, that, you know, to me is what gives me meaning," Nadella said. "It's not just the technology, but it's the ability of this technology to have an impact on their lives."