New App from VA Streamlines Veterans' Resources to Enhance Their Care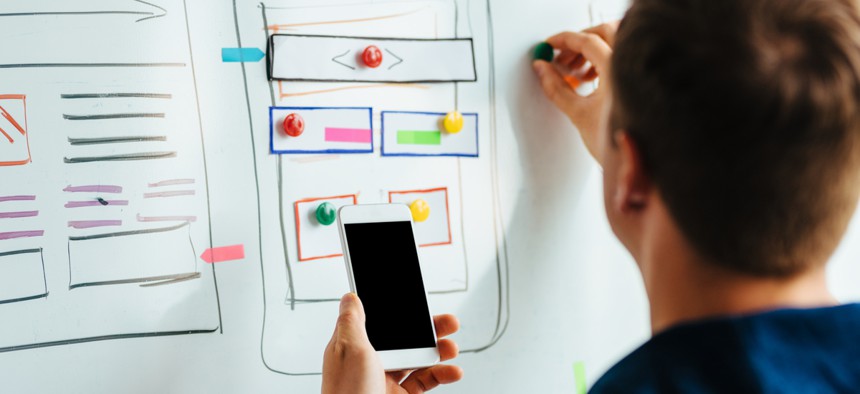 The ultimate goal is to eliminate the barriers vets face in retrieving the information they need most.
The Veterans Affairs Department released a new mobile application this week—VA Launchpad—that is implicitly designed to help veterans spend less time navigating the web to access VA's resources and ultimately aims to improve the incorporation of the agency's services into their lives. 
"Our vision is that access and the veteran experience will be enhanced through information and communication technologies that are effectively integrated into the daily lives of veterans and VA staff," Veterans Health Administration Director of Web and Mobile Solutions Shawn Hardenbrook told Nextgov. "Veterans are seeking more ways to manage their care and we want them to have the right tools, specifically tailored to their unique needs."
According to the user manual, the app is a one-stop-shop that houses "more than 20" of VA's apps in one streamlined place. Hardenbrook added that there are more than 40 apps available to veterans, each with different a function such as managing stress or accessing records.  
"However, until VA Launchpad, the services haven't all been available through one app," he said. "Consider VA Launchpad as an 'app bucket' to access a variety of services using one simple login."
Veterans and those who care for them can log in to the interactive app to identify and access other apps that help them manage their care, see and share VA electronic health records and other information with specific providers, book appointments, fill prescriptions and communicate directly with those that serve them, among other features. 
VA Launchpad offers a search option for users who have trouble finding a specific app or service they need and it organizes the apps into five categories: 
Manage My Health. 
Communicating with My Care Team.
Share My Vital Health Information with My Care Team.
Improve My Mental Health.
Improve My Life.
The app also allows users to send information and feedback directly back to the agency, either by email or they can leave a note to be reached directly by phone. 
And as new apps become available, they will automatically pop up into the Launchpad.
"There are many new apps being piloted across the country right now. Our goal is to continue to find and develop the best solutions for veterans," Hardenbrook said.
In order to access the secure apps within VA Launchpad, users must be a VA patient and must have either a Premium My HealtheVet, DS Logon Level 2 (Premium), or ID.me account. The app is available for download in the Apple App Store and Google Play. 
For those without mobile devices, there is a web-based app store with similar capability is available.
Hardenbrook also noted that customer experience was baked in throughout the development of the app. Early in the process, VA's Office of Human Factors Engineering worked to produce an initial design that was based on industry best practices. Hardenbrook said, for that initial design, the team worked directly with a small group of veterans to gain their insights and feedback. Once an interactive prototype was developed, HFE tested it with a diverse set of veterans—"ranging from the Vietnam Era to the War on Terror"—to gain even more feedback. 
Those recommendations were implemented in the final version of the app. And for those who developed it, VA Launchpad is meant to be a critical entry point for the resources they need most. 
"This Launchpad app could overcome geographical challenges for a veteran that lives hours away from the closest VA medical center, or for a transitioning veteran that is experiencing PTSD and is unable to leave the house for mental health treatment," Hardenbrook said. "We ultimately hope to eliminate as many barriers as possible for veterans, so it's easier for them to receive the care they have earned."