Trump 'Looking Into' Pentagon's JEDI Contract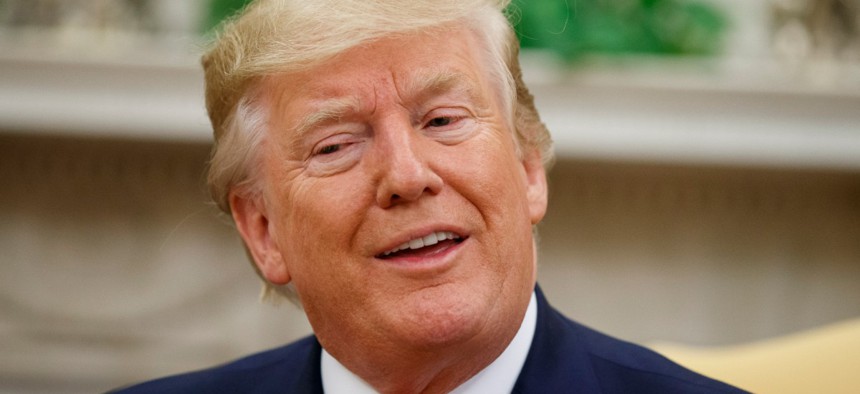 President Trump said he's reviewing the Pentagon's Joint Enterprise Defense Infrastructure contract after hearing "tremendous complaints" about the cloud computing contract from "some of the greatest companies in the world."
The Pentagon is currently deciding between competing bids from Amazon Web Services and Microsoft and has targeted late August to award the contract, which could be worth up to $10 billion over a decade.
Trump said he heard complaints from Microsoft, IBM and Oracle, which lost its 8-month JEDI lawsuit last week in the U.S. Court of Federal Claims. Oracle had alleged conflicts of interest between AWS and Pentagon officials helped steer the contract, though the judge denied those allegations.
When asked first about the JEDI contract by reporters Thursday during a meeting with the prime minister of the Netherlands, Trump asked, "The Amazon one?" The contract has not been awarded yet.
"They're saying it wasn't competitively bid," Trump said. "I never had something where more people are complaining. I will be asking them to take a look at it very closely to see what's going on because I have had very few things with so much complaining."
Trump has weighed in on large-scale procurements before. In December 2016, Trump criticized the price of Boeing's Air Force One planes on Twitter, with White House officials later claiming his negotiations saved taxpayers $1.4 billion.  
Pentagon officials have expressed a dire need in recent months for enterprisewide cloud computing which JEDI intends to address. JEDI will charge a commercial company—either AWS or Microsoft—with building an IT infrastructure capable of hosting, storing, processing and analyzing sensitive and top secret data to warfighters in the field. JEDI is also considered paramount to the Pentagon's artificial intelligence efforts and its five-year digital modernization strategy.
Trump's opinion comes after various members of Congress weighed in, including Republicans Reps. Mark Meadows and Steve Womack, and Sen. Ron Johnson, calling for additional investigations into JEDI. Other lawmakers have publicly sided with the Pentagon, including Rep. Jim Langevin, D-R.I., who sits on the House Armed Services Committee.
JEDI has been a lightning rod for criticism since its announcement in late 2017. One of the most frequent complaints by industry was the contract's single-award structure—which means one company will hold the contract—instead of  a multiple-award strategy, which allows the department to buy from any company on the contract. IBM, which had its formal JEDI protest dismissed procedurally in December by the Government Accountability Office, reiterated its concerns in a statement Thursday to Nextgov.
"IBM has long raised serious concerns about the structure of the JEDI procurement. We continue to believe that the Department of Defense and our men and women in uniform would be best served by a multi-cloud strategy," an IBM spokesperson said.