Airline IT Failures Happening With Alarming Frequency, Little Government Oversight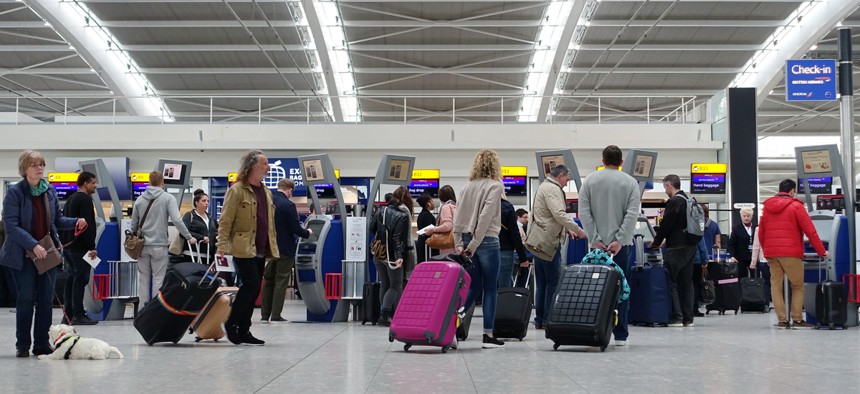 Airline IT failures cause problems "on par or worse" than severe weather outages, and they're happening a lot.
No government data is available to comprehensively count airline information technology outages or how many travelers they affect, but the Government Accountability Office used other means to identify 34 IT outages between 2015 and 2017—29 of which directly disrupted or cancelled flights—according to a report the agency released this week.
The Senate Committee on Commerce, Science and Transportation prompted GAO's review after numerous reports surfaced around IT outages causing widespread flight disturbances. The oversight agency addressed what is known about these outages and their impacts and the Department of Transportation's and Federal Aviation Administration's roles relative to them.
Legally, airlines are not mandated to disclose IT outages and though an outage may be the de facto cause of a flight disruption, reports may include other causes like late arriving aircrafts or the National Aviation System.
GAO emphasized that though there are challenges in adequately identifying airline IT outages, their influence is damaging, inconveniencing passengers with delays and out-of-pocket costs and hampering airline operations and revenue.
"[I]n 2016 an outage in the system that Delta Air Lines uses to check in and board passengers resulted in the cancellation of 2,300 flights over 3 days and cost the airline $150 million in lost revenue, according to statements and financial filings made by the airline," GAO said.
The agency found no FAA and DOT data to identify such outages, so in its absence, GAO used open source documents from 12 airlines who reported information to the Bureau of Transportation Statistics between 2015-2017 and other source material from the third-party IT service providers Amadeus and Sabre. It then validated the outages using publicly available airline information, interviews with airline representatives and other agency data. To understand how airports accommodate passengers inconvenienced by these events, GAO also reviewed 140 related complaints DOT received during the time period.
"We identified 34 IT outages affecting almost every domestic airline in our review," GAO said. "And we are confident that our list of outages includes all of the outages large enough to garner national-level, multi-day media coverage and an official response from an airline executive."
About 85% of the outages caused some sort of flight disruption and the agency identified five outages that caused more than 800 flight delays or cancellations. Seven of the outages had no associated flight disruptions, but 14 resulted in a ground stop.
Though GAO could not compare the outage incidents to disturbances caused by other disruptive events, analysis of two outages found that the "number of delays or cancellations resulting from these outages was on par with or worse than those caused by severe weather in the same months the outages occurred," the agency said.
According to interviews GAO conducted and other press statements, most outages are caused by a range of IT infrastructure issues like hardware, power or telecommunications failures, or software outages or slowdowns. Stakeholders also said contributing factors included aging systems and those that aren't designed to work together, underinvestment in proper IT infrastructures and the introduction of new platforms and services that aim to help customers but could cause disruptions.
The report also notes there isn't publicly available data to adequately quantify with any precision, the number of passengers these outages effect and only one airline provided any relevant information regarding the inquiry. "Because of limited data, information about how passengers have been inconvenienced from outages is largely anecdotal," the agency said.
GAO also explained that though FAA does not directly oversee airline IT systems, the agency plays an important role in oversight and works with airlines to help ensure their data interfaces with operational systems and to assist with recovery, when necessary.
DOT requires airlines to report flight data to BTS and works to ensure airlines are compliant with certain consumer protections related to IT outages. GAO said DOT is also currently conducting a review of how air carriers' handle involuntary changes to passengers' itineraries.
Stakeholders highlighted various risk mitigation efforts during GAO's review, including moving IT operations to the cloud, enhancing system operations and developing stronger contingency plans and recovery strategies. Still, the problem persists--in April tech glitches grounded flights across three airlines nationwide.