Only 11 Percent of Federal IT Runs on the Cloud, Watchdog Says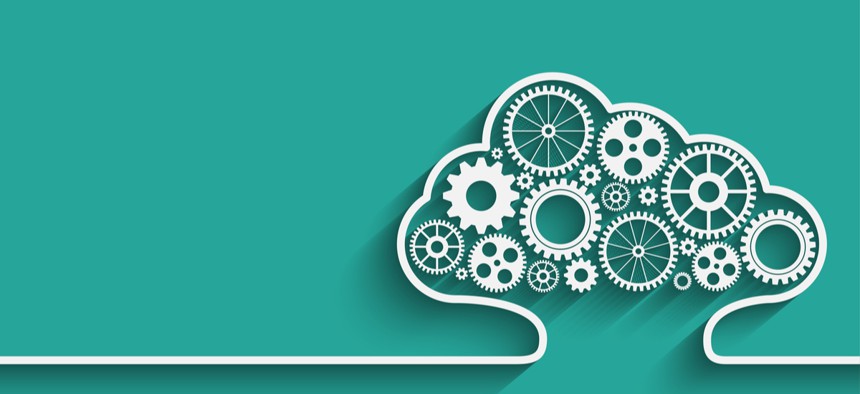 Government tech leaders have long pushed agencies to move more of their tech to the cloud, but the shift away from physical infrastructure is going slowly, according to a congressional watchdog.
In a report published Monday, the Government Accountability Office found only about 11 percent of federal IT systems are running on the cloud, a small but significant increase from just 8 percent in 2016. The tech's adoption varies widely across government, auditors said, with some agencies running more than a third of their applications on the cloud and others with less than 10 percent.
The Defense Department, which operates about 44 percent of the government's IT systems, only uses the cloud for about 3 percent of its tech, less than any other agency in government. That said, the department plans to start making significant investments in the tech, with a $10 billion enterprise cloud contract expected to be awarded in the coming months.
Civilian agencies have largely been more willing to adopt the tech, with slightly more than 17 percent of their IT investments residing in the cloud today. The General Services and Social Security administrations both run more than 35 percent of their applications in the cloud, while the Education, Energy, Treasury and Veterans Affairs departments use the tech for about one-tenth of their IT systems, GAO found.
Overall, auditors applauded the progress agencies have made in migrating systems to the cloud, which promises to cut costs and improve the government's ability to manage its tech. However, they noted some organizations need to do a better job evaluating their overall cloud adoption.
Under the Office of Management and Budget's 2011 Cloud First policy, agencies are required to measure the extent to which new and existing IT systems will rely on cloud services, but auditors found not every department followed the rule. Three of the 16 agencies GAO reviewed for the report had only assessed cloud usage for either new or existing systems, not both, and another three failed to conduct evaluations altogether.
Though the other agencies had conducted assessments for most of their tech, according to the report, a dozen departments failed to measure cloud usage for 10 or more systems. And while the 13 agencies that measured cloud adoption reported more than $290 million in cost savings to date, auditors said every department lacked comprehensive policies for tracking savings data.
"An important aspect to the success of key OMB cloud initiatives ... will be the ability for key stakeholders to access complete information on the savings that agencies are achieving under these efforts," auditors wrote.