SEC Pulls On-Ramp For $2.5 Billion IT Contract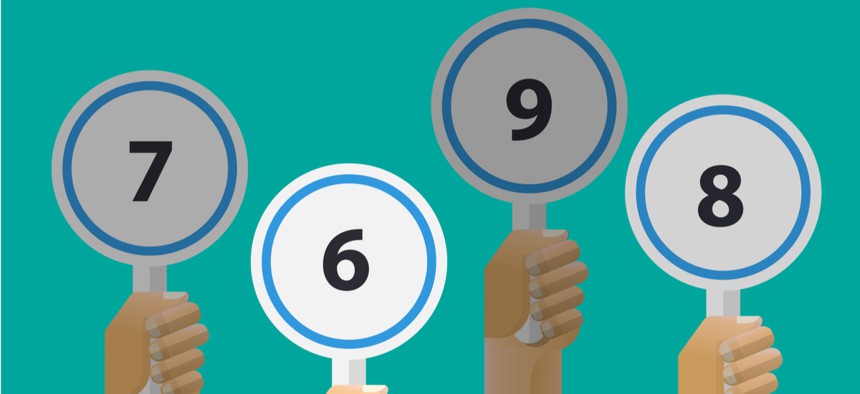 The agency is reworking the on-ramp solicitation for its massive enterprise IT vehicle, which, if officials aren't careful, could take down the entire contract.
The Securities and Exchange Commission is rethinking its evaluation strategy for onboarding a cohort of small businesses onto its $2.5 billion enterprise IT contract after a protest argued the agency was weighting the solicitation too much in favor of companies it has worked with before.
After an initial award to three large companies in June and 15 small businesses in October, the SEC opened an early onramp to add another 10 small vendors to the ONE OIT contract. In December, Virginia-based Ekagra Partners LLC filed a protest with the Government Accountability Office arguing the past performance assessment limited competition.
Within the solicitation, SEC included standard past performance evaluation criteria but added an option to award extra points—up to 3,000 out of about 23,000 possible points for the entire determination—to vendors who have worked on SEC-specific projects.
"The protester argues that the RFP's evaluation scheme unduly restricts competition to only those offerors with prior SEC experience and is also improper because it fails to account for qualitative differences between proposals," according to the GAO decision, obtained by Nextgov.
After the protest was filed—and after a delay due to the 35-day government shutdown that started the year—GAO officials requested a hearing with SEC. The agency declined and instead decided to pull the solicitation "to 'address protester's identified concerns,'" according to the GAO document.
"After review of the pre-solicitation protest filed and a thorough assessment of the SEC's business needs, a determination was made to take corrective action," the agency said in an update posted to FedBizOpps April 18.
GAO dismissed the protest on April 17 to allow SEC to take those corrective actions. The SEC plans to issue a new solicitation under a new number in "the near future," according to the FBO post.
It's not clear whether the agency will withdraw the SEC-specific performance points or alter the solicitation to avoid another protest. SEC officials did not respond to a request for comment.
"There are other solicitations from other agencies that have experience-based points but it was the way they did it that we had an issue with," attorney Brad English, of Maynard Cooper Gale, who is representing Ekagra in this issue, told Nextgov. He declined to elaborate on the specific concerns or what corrective actions would be suitable to the company, citing a GAO protective order.
"There may be a number of ways to address our concerns. So, we'll wait and see what they do and take it from there," he said.
Either way, contracting officers should be wary of making too many changes, according to Alan Chvotkin, executive vice president and general counsel for the Professional Services Counsel.
"They've got to be careful in the on-ramp—which is to allow new vendors to come in—that they don't substantially deviate from the ground rules on which the original awards were made," he said. "In effect, then, they're creating a new procurement, and those who were excluded the first time around will legitimately say, 'Well, had I known that that would have been different … I would have been awarded the original one and not have to recompete for this second one."
Chvotkin said including agency-specific past performance criteria is far from standard practice but is becoming more common as of late. He pointed to the Navy's SeaPort Next Gen contract—the follow-on to SeaPort-e—which relied heavily on Navy-specific past performance and the General Services Administration's OASIS professional services vehicle, which Chvotkin said gave "significant scoring for specific types of work with the Air Force because they were the launch customer."
Ralph Nash, a government procurement law expert and founder of the Government Contracts Program at George Washington University's National Law Center, where he is a former dean of graduate studies and professor emeritus, said agency-specific scoring can be useful in some situations, so long as it's limited in scope.
"This may be valid as a small element of an experience evaluation factor but not if it is so heavily weighted that it precludes good competition," he said.