Management, Not Money, Will Make or Break VA Modernization, Lawmakers Say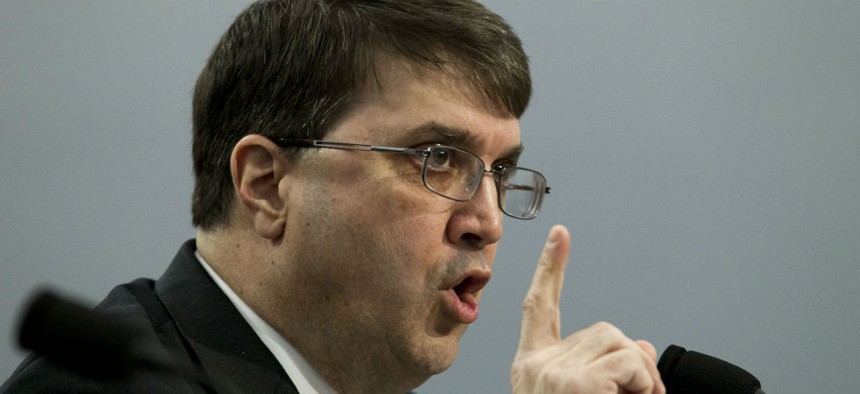 "We are no longer on the cusp of transformation, we are in the middle of it," Secretary Robert Wilkie told senators.
The Veterans Affairs Department is still on track to debut its new and improved electronic health record system early next year, but the timelines for other modernization efforts are more uncertain, officials told Congress.
As the agency moves forward with multiple IT overhauls, lawmakers warned officials not to repeat the mismanagement that's historically derailed their tech initiatives.
In the department's annual budget hearing, Secretary Robert Wilkie and other leaders stressed the critical role of tech in streamlining the agency's sprawling bureaucracy and improving services for some 9 million vets spread across the country. Though he admitted the department's IT operations are far from perfect, Wilkie said resources are increasingly shifting away from maintaining legacy tech and toward standing up a modern IT infrastructure.
"We are no longer on the cusp of transformation, we are in the middle of it," he told the Senate Veterans Affairs Committee on Tuesday.
During the hearing, officials touched on a wide array of efforts to improve agency services and internal processes, which include a fair share tech upgrades.
Richard Stone, the executive in charge of the Veterans Health Administration, said the agency still plans to deploy its new electronic health record system at three facilities in the Pacific Northwest by March 2020. The overhaul, which has already been plagued by budget and management issues, is expected to cost some $16 billion over the next decade.
Wilkie also said Veterans Affairs and the Defense Department, which is implementing a similar version of the platform, are making progress on consolidating oversight of the project. He said the agency will soon release an internal working group's recommendations for "combin[ing] the resources of both departments to build this [system]." Veterans Affairs Press Secretary Curt Cashour told Nextgov the announcement will be unveiled "in the coming weeks."
Beyond health records, the department is also in the process of joining the Pentagon's medical supplies ordering system, according to Wilkie. Officials are also working to drastically consolidate the agency's human resources infrastructure from 140 disparate systems down to 18, and expand its telehealth services by more than 50 percent, witnesses said.
That said, Wilkie appeared less optimistic about the effort to expand the department's caregiver benefits program. He's supposed to certify the IT system that would support the program by Oct. 1, but wouldn't commit to Sen. Patty Murray, D-Wash., whether he would meet the deadline.
"I'm not going to do it unless it's right," he said. While he said the tech itself has been purchased, other witnesses warned it could take extra time to migrate benefits data to the new system.
The department's 2020 budget request included more than $4.3 billion for IT infrastructure, a roughly six percent increase from 2019, and $1.6 billion for modernizing its electronic health record platform. The request, which totaled $220 billion, leaves the department's modernization efforts sitting pretty in terms of resources, said Chairman Johnny Isakson, R-Ga., but the execution remains a point of concern.
"Money is not our problem," Isakson said. "We're not begging for more, we're looking for results."
In recent years, Veterans Affairs' technological woes have been rooted largely in shoddy management and insufficient accountability. Just last week, an internal watchdog attributed the failure of the agency's G.I. benefits modernization to a lack of adequate leadership.
Sen. Marsha Blackburn, R-Tenn., told officials this sordid history should be top of mind as they move forward with new efforts.
"Things should never have gotten into this shape," she said. "My hope is as you set these timelines for implementing technologies that are going to enable greater access, that you also are utilizing technology to make certain there is not the gross mismanagement that has taken place in times past."
Editor's note: This article has been updated to clarify Wilkie's statement on EHR management consolidation.