GSA Releases Technology Business Management Playbook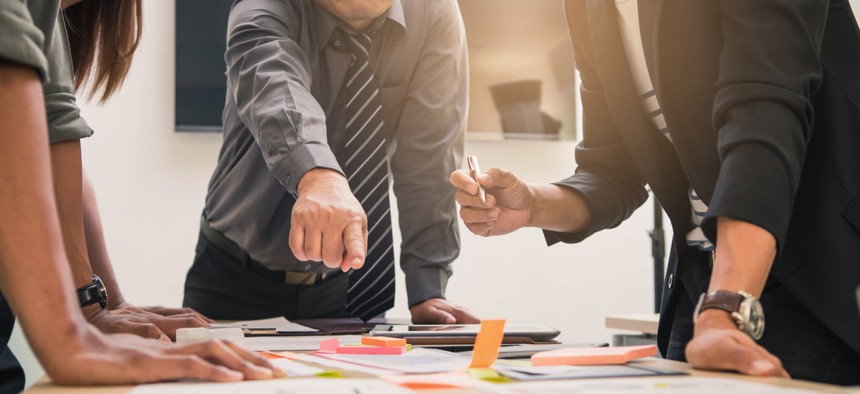 Federal agencies have a new resource to assist them in implementing the Technology Business Management framework.
On Tuesday, the General Services Administration released the Technology Business Management playbook, a collection of seven "plays," or strategies agencies can use at various stages of implementing the framework.
The playbook is based on lessons learned from GSA and the Education Department implementing the framework, which the Federal CIO Council defines as an IT management framework that implements a standard IT spend taxonomy. The framework aligns IT, finance and business stakeholders, promising a superior view of all sorts of IT investments and their impact to mission outcomes.
"TBM is a way to manage IT like a business, support value conversations, maximize the benefit achieved through IT spending, and align with business needs and strategy," the playbook states.
"Each play here is a plan of action or strategy used to move toward a goal or objective. The 7 plays in this book will improve your chances of beginning a successful TBM implementation."
The seven plays are:
1. Identify Key Players and Stakeholders
An effective TBM program consists of business stakeholders, financial analysts, and IT and acquisition professionals. Together, this team drives change through collection, analysis, reporting, and informed review of IT data.
2. Determine Current State
To understand what the TBM journey will look like for your agency, it's necessary to understand current data collection and aggregation methods, financial systems, business processes. and models your agency already has to support TBM. No matter your current state, TBM can bring value.
3. Identify Measurable Desired Outcome
Identify how your agency can deliver the right IT services for the best possible price as you work with stakeholders to identify priority areas to focus your TBM efforts.
4. Start Aligning Data
Based on your agency's current state and desired near term outcomes, it's time to start working with financial data. Starting from the bottom up is recommended—aligning financial data to cost pools before moving to tower and service mapping.
5. Look for Insights
Now that you have started mapping your data, where does that data lead you? Focus on examining the data to see how it provides insights into issues or benefits around the identified outcomes.
6. Rollout and Adoption
Now that you have completed the first iteration of your TBM implementation, start integrating TBM principles, data, and value discussions into meetings and funding reviews.
7. Keep Maturing the TBM Implementation
Assess your maturity and identify opportunities to maximize your TBM implementation.
The playbook further outlines the personnel and their responsibilities, and provides a series of lessons learned and other advice for agencies as they implement it.