DHS Seeks Industry Input as It Goes All-in for Cloud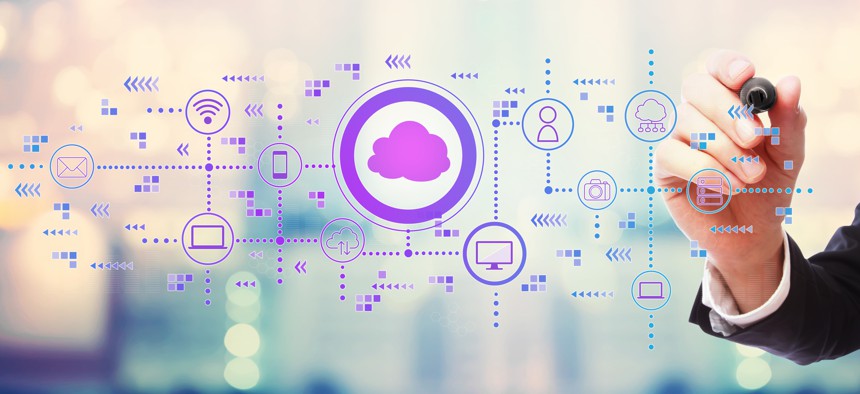 The agency is moving to the cloud at fast clip but it wants feedback to ensure its strategy is sound.
The Homeland Security Department and its component agencies are actively migrating or have successfully migrated 5 percent of its systems and almost 20 percent of its applications to the cloud, but the department's cloud journey is just beginning.
According to a Feb. 19 request for information, DHS—led by its newly formed Cloud Steering Group—is focused on achieving enterprisewide benefits through a "hybrid IT, multi-cloud, federated and vendor-neutral" cloud strategy that effectively optimizes data centers and shutters legacy technologies.
In other words, DHS is out with the old and in with the new but it wants help shaping requirements and solutions for acquiring the new.
The RFI follows a decision last year to move away from recompeting its Enterprise Acquisition Gateway for Leading-Edge Solutions, or EAGLE II—from which it procured a variety of IT tools and solutions—to rely on governmentwide offerings, such as the General Services Administration's IT Schedule 70. EAGLE II expires in 2020.
According to the RFI, DHS wants:
Efficiencies, resilience, agility and speed through automation, IT (development, security and operations) business process reengineering, and optimized resource utilization.
Improved mission support and information sharing through cloud-native shared services, enabling more efficient, faster and lower risk application modernization.
Timely and effective mission and administrative decision support through data quality improvement, automated policy enforcement, tailored data access controls and analytics.
Clearer pathways toward use of various cloud service models for infrastructure, platform and software-as-a-service, replacing costly and bespoke legacy implementations.
Removal of fixed costs (i.e., data centers) and other liabilities associated with operating and refreshing government-owned infrastructure and other assets as possible.
Agile and proactive cybersecurity through consistent and in some cases common instrumentation, use of shared services and analytics.
Moving the agency's workforce toward as-a-service IT operations.
Leveraging market-based innovation through a vendor-neutral, multi-cloud, hybrid approach.
The component agencies will lead cloud adoption while the Cloud Steering Group keeps the efforts aligned.
"The takeaway is a broad-based, component-led, DHS-wide adoption and move to the cloud that is multi-year, robust and well underway," the RFI states.
The RFI makes clear the agency's cloud push coincides with an effort to optimize one of its two main enterprise computing centers—"Data Center 1"—while migrating data from its second enterprise computing center—"Data Center 2"—which has a contract that expires in 2020. Data Center 2 has a wide footprint, supporting 10 component agencies. According to the RFI, approximately 50 percent of Data Center 2 systems will migrate to a cloud service provider, while 30 percent "may need assistance planning their target environment and migration strategies."
"The [Cloud Steering Committee] is looking to partners in industry to help inform our strategy, shape our requirements and provide solutions to realize the targeted outcomes," the RFI states.
Responses are due by March 20.