VA Is Starting Its GI Benefits Modernization Effort From Scratch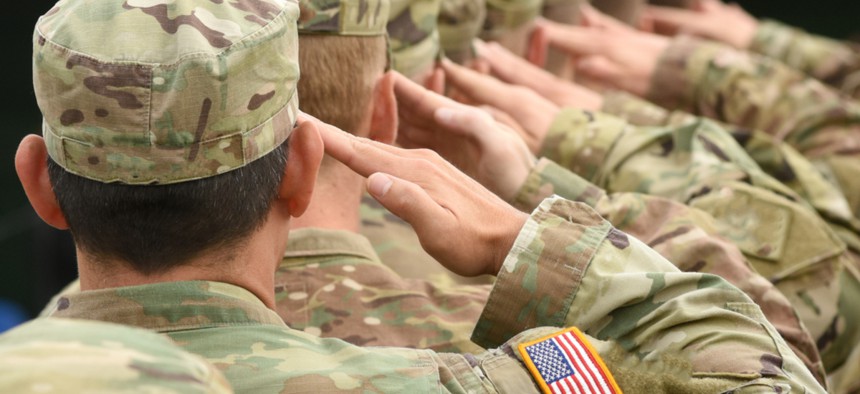 The old system will keep calculating veterans' housing benefits until 2020.
The Veterans Affairs Department will "reset" its efforts to modernize the IT system responsible for calculating G.I. Bill benefits months after the overhaul was scheduled to be completed, the agency announced Wednesday.
The new tech, which officials told Congress would be fully operational this August, is now expected to launch by Dec. 1, 2019.
Last year, Congress mandated that the agency reconfigure its formula for calculating the amount of housing and educational assistance veterans would receive under the G.I. Bill. The change meant the department needed to upgrade the Long Term Solution system, the IT used to calculate benefits, by this year's fall semester.
When the agency missed the deadline, tens of thousands of veterans were left waiting weeks, sometimes months, to receive housing benefits. The claims backlog peaked on Sept. 14 with roughly 207,000 vets awaiting their stipends.
Veterans Affairs will now rely on the older LTS system until the spring 2020 semester "to give the department the time, contracting support and resources necessary to develop the [new] capability," officials said.
"Redesigning the way [the Veterans Benefits Administration] calculates [G.I.] Bill housing rates during a busy academic season was like flying a plane while building it, and that was unfair and frustrating to veterans and taxpayers," said Veterans Affairs Secretary Robert Wilkie in a statement. "That's why we are resetting our implementation of the law for the next year to ensure we get the technology and formula right to put veterans first."
Booz Allen Hamilton led the initial overhaul effort, but during the next iteration, the department may recruit additional vendors to assist with program integration, systems implementation and software development, according to the agency.
The Long Term Solution upgrade has proven especially difficult because it's connected to numerous other legacy IT systems, said Richard Crowe, a senior vice president at Booz Allen Hamilton, during a hearing on Nov. 16.
"The challenges we've faced have come from endeavoring to build something new on top of something very old," he told the House Veterans Affairs Economic Opportunity subcommittee. "Many of these underlying systems are past, at, or very near their intended dates for retirement."
During the hearing, Veterans Affairs officials refused to give a date for when the upgrade would be completed, and the panel wasted no time extrapolating the botched modernization to the agency's broader troubles with outdated IT.
"It feels like an exercise in futility," said Chairman Jodey Arrington, R-Texas. "I feel like there's a leadership issue, I feel like there's a lack of strategic management, I don't think there's a real plan for the IT architecture of this agency. I think it's just fundamentally broken."